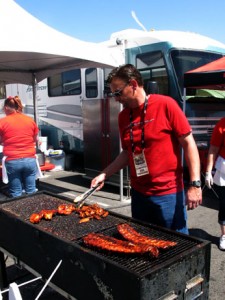 Man, if summer school consisted of smoked brisket, ribs, and pulled pork, I'd have failed every grade. And often. To the tune of this being my 37th year of kindergarten often.
Summer school didn't have competition barbecue courses, however, and I was forced to learn about barbecue on the streets. You don't have to, though. The KCBS offers courses not just in summer but throughout the year. Here's a list of what you can take and where during National Barbecue Month (May) and into June.
Certified Judging Classes
To become a CBJ, just attend one of the hundreds of classes conducted by KCBS every year throughout the country. In a half-day's time, you'll learn how to grade world-class chicken, pulled pork, ribs and brisket – and taste them during the process! The CBJ fee also includes one year's membership to KCBS.
05/19/2012
Bardstown, KY
Instructor: Don Harwell
Contact: Rick Berry (502) 460-3548, Bourbon City BBQ Festival
05/25/2012
Rochester, NY
Instructor: Ken Dakai
Contact: Brian Wernett (888) ROC-BBQ8, Roc City Ribfest
05/25/2012
North Bend, OR
Instructor: Mark Simmons
Contact: John Hunt (541) 999-5199
05/31/2012
Lake Ozark, MO
Instructor: Bunny Tuttle
Contact: Jon Hartenstein (573) 480-9866
06/10/2012
Overland Park, KS
Instructor: Mark Simmons
Contact: Culinary Center (913) 341-4455
06/14/2012
Frisco, CO
Instructor: Bunny Tuttle
Contact: Nora Gilbertson (970) 668-9120
06/16/2012
Tuscumbia, AL
Instructor: Randy G Bigler
Contact: Kelly Aday (256) 710-1901
Table Captain Classes
05/24/2012
Austin, TX
Instructor: Mike Lake
Contact Information: Jennifer Shiflett (360) 918-1139
06/16/2012
Tuscumbia, AL
Instructor: Randy G. Bigler
Contact: Kelly Aday (256) 710-1901
Cooking Classes
05/17/2012
Lisle, IL
Instructor: Chris Marks
Contact: Fireplace and Chimney Authority
05/18/2012
Middleburry, IN
Instructor: Chris Marks
Contact:Bob Nurmikko (574) 825-1677
05/24/2012-05/25/2012
Rochester, NY
Instructor: Danielle Dimovski
Contact: Diva Q
06/01/2012-06/03/2012
Unadilla, GA
Instructor: Myron Mixon
Contact: Myron Mixon
06/02/2012
Ft.Wayne, IN
Instructor: Chris Marks
Contact: No name given (260) 484-0784
06/02/2012
Los Gatos, CA
Instructor: Paul Kirk
Contact: David Peterson (408) 833-4164
06/04/2012-06/05/2012
Ponca City, OK
Instructor: David Bouska
Contact: Christa Jones (800) 423-0698
06/06/2012
Pleasant Gap, PA
Instructor: Chris Marks
Contact: Chris (814) 359-2761
06/08/2012-06/09/2012
Evans, GA
Instructor: Rod Gray
Contact: Rod Gray (816) 225-1155
06/09/2012
Wilmette, IL
Instructor: Chirs Marks
Contact: Dan (847) 251-2272
06/09/2012
Kansas City, KS
Instructor: Robert Snelson
Contact: Bob Snelson (913) 471-4669
06/16/2012-06/17/2012
Leisure City, WI
Instructor: Chris Marks
Contact: Doreen (715) 356-3966