In 2008, my coauthor of ten books, Nancy Gerlach, and her husband, Jeff, retired and moved from Albuquerque to Chelem, Yucatán, which is on the beach near the port of Progresso, just north of the capital city of Mérida.  They bought a house and extensively remodeled it, and dived into living in Mexico as expatriates.  My wife and I visited our friends recently and they gave us a whirlwind tour of their favorite places to explore the culture and the food of the region, not to mention shopping for unique art and clothes.
They took us to El Mirador Restaurante in the town of Ticul, where the specialty is food cooked in the pibil tradition, which means marinated in a recado mixture of achiote (annatto) paste and bitter orange juice, topped with chiles and onions, wrapped in banana leaves and baked in a smoker or oven.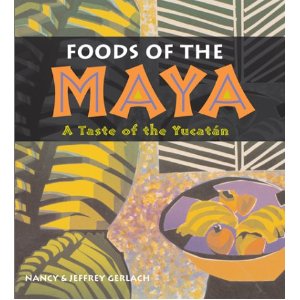 Here is the recipe from Nancy and Jeff's book, Foods of the Maya: A Taste of the Yucatán, which is available from the University of New Mexico Press, here.
Pollo Pibil (Chicken Cooked in the Pibil Method)
This uniquely Yucatecan dish is available in nearly every restaurant here that features local cuisine.  Originally cooked over coals in pits dug in the ground, pollo pibil is most often baked in ovens these days.  We have had great success in duplicating the pit method by using an inexpensive outdoor smoker.  We don't add any wood chips for smoke, and we use a pan of water between the coals and the wrapped chicken to keep it juicy.  Serve it with black beans (Frijoles Negros) and pickled onions (Cebollas Encurtidas), with habanero salsa for a truly authentic meal.  Note: This recipe requires advance preparation.
1/4 cup achiote paste (available from MexGrocer.com)
1/2 cup bitter orange juice, or substitute 1/4 cut orange juice and 1/4 cup lime juice
4 chicken breasts, skin removed
1 medium onion, sliced
3 fresh banana chiles, seeds and stems removed, chopped
1 tablespoon vegetable oil
Banana leaves or aluminum foil
4 fresh sprigs epazote or substitute 1 tablespoon dried epazote (available from MexGrocer.com)
4 tablespoons butter
Mix the achiote paste with the orange juice.  Prick the chicken breasts with a fork and pour the marinade over them.  Marinate the chicken, covered, for 4 to 6 hours or overnight.
Saute the onion and the chiles in the oil until soft.
Line a roasting pan with the banana leaves.  Place the chicken on the leaves, pour the remaining marinade over it, and top the chicken with the onions and chiles.  Place a little epazote on each breast along with a tablespoon of the butter.  Fold the leaves over, cover the pan, and place it in the smoker or bake in the oven at 350 degrees for 1 hour.
Yield: 4 servings
Heat Scale: Mild