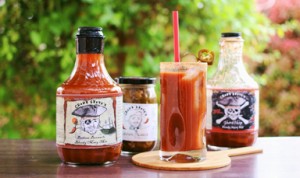 By Greg Mays
The arrival of spring always gets me excited about brunch: the blooming roses, the fresh fruit, eggs of various types, and of course, brunch cocktails. In one of my blog posts recently, I said something like "I prefer spicy Bloody Marys," and apparently, this phrase triggered a response from The God of Spicy Bloody Marys: Crazy Steve.
Crazy Steve's makes a variety of spicy items that they sell through their website, from salsa to pickles, and since I'm the cocktail guy, Steve blessed me with a box of Bloody Mary goodness. I got to try their Badass Barnacle and Ghostship Bloody Mary mixes, plus their rimming salt and "Cajun Cuke" pickles to garnish.
Badass Barnacle is similar to other quality, natural Bloody Mary mixes, though jalapeno is also featured in this mix, so it has some more bite. There's even a recipe on the bottle for clam chowder using Badass.
At mention of the word "Ghost" above, I imagine your ears pricked up. Crazy Steve's Ghostship Mix is a Bloody Mary mix with ghost pepper. Will it blister your lips? No. Is Ghostship really spicy? For sure. I rimmed a glass with Steve's Salt, poured a glass of Ghostship with a shot of vodka, and garnished it with some of Steve's Cajun Cukes (see it in the photo above). It was hot, spicy, and delicious. I loved the flavor mixed with the heat, and I imagine most of you will too.
Crazy Steve's products are available at retail primarily in the Northeast, but you can buy 32 oz bottles of their mixes for about $10 (including shipping) from their online store. Try the mixes with different liquors and see how you like them. Here are some variations on the classic Bloody Mary:

Bloody Maria
Ingredients
1 ½ oz of tequila
6 oz bloody mary mix
Instructions
Mix and serve on the rocks in a pint glass and garnish heavily.
Red Snapper
Ingredients
1 ½ oz of gin
6 oz bloody mary mix
Instructions
Mix and serve on the rocks in a pint glass and garnish heavily.
Greg Mays is the managing editor of Simple Cocktails at www.simple-cocktails.com.
The following two tabs change content below.
Cocktail Editor | Greg is the classic cocktail aficionado and recipe developer at Simple Cocktails, his "place for the intimidated home bartender to shed some fear."
Latest posts by Greg Mays (see all)