Crab cakes – a variation on New England's fish cakes made with cod or pollock – are popular along the coast of the Mid-Atlantic States, the Gulf Coast, the Pacific Northwest and Northern California, where the crabbing industry flourishes. Along the East Coast, blue crab is traditional while on the left coast Dungeness crab is commonly used. (A lot of crab is now imported from the Far East and Venezuela. Try to find local crab whenever possible. True Maryland crab will be labeled with MD and three digits to identify the harvester.)
The composition of crab cakes consists of a variety of ingredients (depending on the chef) but usually includes bread crumbs, mayonnaise, eggs and seasoning (especially Old Bay). Some cooks add finely diced bell pepper, minced onion, finely diced scallions and other ingredients but a traditional Maryland-style crab cake doesn't need all that filler. Crab cakes are then sautéed, baked or broiled.
For this adaptation I added some minced jalapeños for a bit of heat and served the crab cakes with a spicy rémoulade sauce.

Crab Cakes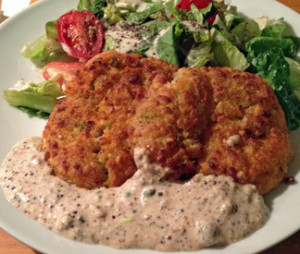 Heat Scale:
Heat Scale: Mild to Medium
Ingredients
1 pound crab meat (special or backfin)
½ cup panko breadcrumbs
½ cup good-quality mayonnaise
1 egg, beaten
1 tablespoon Dijon-style mustard
1 tablespoon Worcestershire sauce
2 teaspoons minced jalapeño (or your favorite chile)
1 teaspoon Louisiana-style hot sauce
1 teaspoon Old Bay seasoning
Instructions
Drain the crabmeat and carefully pick over the crab to remove any shell or cartilage.
Combine the mayonnaise, egg, mustard, Worcestershire, jalapeño, hot sauce and Old Bay in a mixing bowl. Add the breadcrumbs and mix to combine.
Add the crab and gently mix (don't overwork the mixture). Form the mixture into six cakes, about ½ cup each or use a # 8 disher if you have one. Cover and refrigerate for at least one hour.
Preheat a large skillet to medium heat and coat with a thin layer of oil. When the oil begins to shimmer, place the crab cakes in the pan and cook about three to four minutes per side or until golden brown (the internal temperature should be 165 degrees F.).
Alternately, preheat the oven to 375 degrees F. and lightly grease a baking sheet. Bake the cakes for 15 minutes, then turn the crab cakes over and bake an additional 10 to 15 minutes, until nicely browned.
Serve on a bed of field greens (or with a side salad) with lemon wedges and hot sauce.
If you don't want to go to the trouble of cooking and cleaning fresh crabs, refrigerated and pasteurized crab meat is available.
rémoulade
Heat Scale:
Heat Scale: Mild, if that
Ingredients
½ cup mayonnaise (I prefer Hellmann's; if you're west of the Rockies it's Best Food)
3 tablespoons Creole mustard
2 tablespoons prepared horseradish, well drained
1 green onion, finely minced (about 2 tablespoons)
1 tablespoon capers, rinsed and chopped
2 teaspoons minced lemon zest
½ teaspoon smoked hot Hungarian paprika
½ teaspoon ground cayenne
½ teaspoon fresh lemon juice
Smoked kosher salt, to taste (I usually start with ¼ teaspoon)
Freshly ground smoked black pepper, to taste
Instructions
Combine all of the ingredients in a small mixing bowl. Refrigerate, covered, for at least one hour to allow the flavors to blend.
Although similar to Maryland crab cakes, the West Coast variety has a bit of a different twist and uses Dungeness crab instead of blue crab.
West Coast Crab Cake Variant
Ingredients
1½ pounds Dungeness crab meat
2 cups panko bread crumbs, divided
⅓ cup finely minced yellow onion
⅓ cup finely minced celery
⅓ cup finely minced red or green bell pepper
¼ cup mayonnaise
1 large egg, beaten
1 tablespoon fresh lemon juice
½ teaspoon hot sauce
½ teaspoon Worcestershire sauce
¼ teaspoon white pepper
1 tablespoon chopped fresh parsley
Instructions
Drain the crab meat and squeeze out the excess water. Carefully check for stray shell pieces.
Shred the crab meat into medium-size pieces and combine with one cup of bread crumbs, onion, celery, bell pepper, mayonnaise, egg, lemon juice, hot sauce, Worcestershire, pepper and parsley. Don't over mix.
Form the mixture into six balls. Flatten each ball into one-inch thick patties.
Put the remaining panko onto a plate and press each patty into the crumbs, evenly coating both sides.
Place the breaded crab cakes on a wax paper lined cookie sheet, cover and refrigerate for 30 minutes or up to two hours.
Heat a large skillet over medium heat and add a bit of oil. When the oil begins to shimmer add the crab cakes and sauté on each side until golden brown (about three to four minutes per side).
Serve on a bed of field greens or arugula with tartar sauce and lemon wedges.
Tartar Sauce
Heat Scale:
Heat Scale: non
Ingredients
1 cup mayonnaise
1½ tablespoons sweet pickle relish
1 tablespoon finely minced red onion
1 tablespoon fresh lemon juice
1 teaspoon Dijon-style mustard
Coarse kosher salt and freshly ground black pepper, to taste
Instructions
Combine all of the ingredients in a small bowl, cover and refrigerate until service.
The following two tabs change content below.
Grilling & BBQ Editor | Mike holds a "Doctorate of Barbeque Philosophy" (Ph.B.) degree from the Kansas City Barbeque Society. His book Mastering Barbecue has been called the "go-to" book for BBQ knowledge.
Latest posts by Mike Stines (see all)