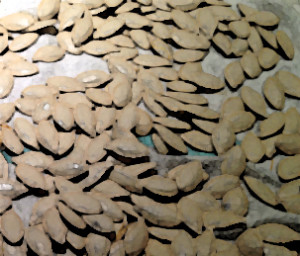 You're getting ready for the annual gourd gouging for Halloween and you have a couple of "Great Pumpkins" ready for carving that provided a good supply of pumpkin seeds. Aside from saving some seeds for planting next spring, roast the seeds for treats… and they make great gifts! This recipe has some spice (and some booze) to make it a bit more interesting.

Spiced Pumpkin Seeds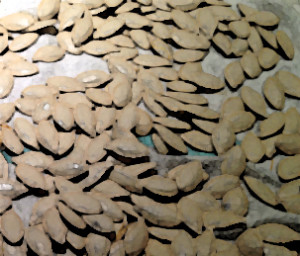 Heat Scale:
Heat Scale: Medium
Ingredients
3 cups pumpkin seeds
3 tablespoons canola oil
3 tablespoons granulated sugar
2 tablespoons smoked kosher salt
1 tablespoon ground cinnamon
1 tablespoon ground ginger
1 tablespoon ground cayenne or chipotle pepper
1 tablespoon ground cumin
1 teaspoon Old Bay seasoning
2 tablespoons unsalted butter
2 tablespoons decent rum (you don't want to use Jamaican Appleton Estate Reserve at a price of $395 a bottle for this)
Instructions
Preheat the oven to 350 degrees F.
Thoroughly rinse the pumpkin seeds in a colander to remove the fibers.
Dry the seeds on a kitchen towel (don't use paper towels or the seeds will stick) for a few hours or until dry.
Toss the seeds with the oil and roast them, stirring occasionally, on a foil-lined and greased cookie sheet for 20 to 30 minutes or until nicely toasted.
Mix the sugar, salt, cinnamon, ginger, cayenne, cumin and Old Bay in a bowl.
Place the seeds in a large sauté pan with the rum and butter. Cook over medium-high heat until the seeds are glazed. Toss with the dry ingredients and serve. (I like a drizzle of lime juice on them.)
The roasted seeds will keep for two weeks, covered and refrigerated.
The following two tabs change content below.
Grilling & BBQ Editor | Mike holds a "Doctorate of Barbeque Philosophy" (Ph.B.) degree from the Kansas City Barbeque Society. His book Mastering Barbecue has been called the "go-to" book for BBQ knowledge.
Latest posts by Mike Stines (see all)