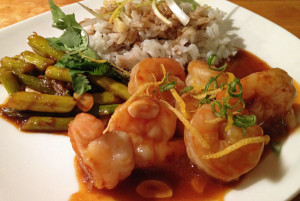 Almost every cuisine has its variety of piquant fish… from ceviche to spicy soups to pan-fried fish. And most recipes – even humble fish and chips – can be adapted to add a spice component.

Szechuan Shrimp: Recipe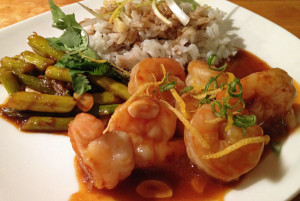 Heat Scale:
Heat Scale: Medium to Hot
Ingredients
¼ cup fish stock or clam juice
1-2 tablespoons Sriracha, depending on heat desired
1 tablespoon reduced sodium soy sauce
2 teaspoons cornstarch
1 teaspoon honey or agave syrup
½ teaspoon crushed red pepper flakes
¼ teaspoon ground ginger
1 tablespoon canola oil
¼ cup sliced green onions
4 cloves garlic, minced
12 21/25 steamed shrimp (about ¾ pound)
Instructions
Combine the stock, Sriracha, soy sauce, cornstarch, honey, crushed red pepper and ginger in a bowl. Stir well to combine and reserve.
Heat the oil in a medium sauté pan over medium-high heat. Add the green onions and garlic. Cook briefly. Add to sauce. Simmer until the sauce is warmed. Add the shrimp and toss to coat.
Garnish with chopped green onion. Serve with rice and Szechwan asparagus.
The following two tabs change content below.
Grilling & BBQ Editor | Mike holds a "Doctorate of Barbeque Philosophy" (Ph.B.) degree from the Kansas City Barbeque Society. His book Mastering Barbecue has been called the "go-to" book for BBQ knowledge.
Latest posts by Mike Stines (see all)