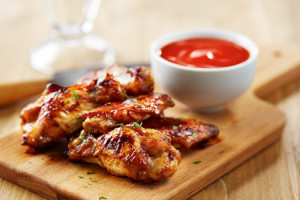 Friday night I crossbred Sriracha with apricot preserves. While that statement sounds like I created a bogus sex ad on Craigslist, then bopped the red rooster on its head when it showed up, it's actually less creepy than that. Search the internet for "wouldn't it be cool if" and you'll find all kinds of video for dumb ideas gone wrong. Sift through video after video of ER trips in their infancy, however, and you can find some good ideas that turned out pretty well. This is one of those times.
I was low on my traditional go-to's for grilling chicken. A frantic hunt through the fridge prior to guests arriving got me thinking, however. First off, the green poupon behind the questionable pork had to go. Second, why not mix up the Sriracha and some apricot preserves as a glaze? I was pretty sure neither had reached expiration, so I went for it. The result was a sweet, tangy glaze punctuated by Asian fire. I'm certainly making it again.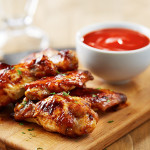 Apricot Sriracha Glazed Chicken
2015-07-16 01:29:03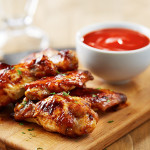 Heat Scale: Mild to Wild
Ingredients
2-3 lbs dark chicken pieces
Salt and Pepper
1 cup apricot preserves
1-2 tablespoons Sriracha sauce
Instructions
Heat your grill to medium.
Season the chicken with the salt and pepper to taste.
With the lid closed, cook the chicken pieces on the grill for 8-10 minutes. Flip.
Cook for another 4-5 minutes closed. Brush the chicken with the glaze.
Close the lid and let the chicken finish grilling, about another 5-6 minutes.
Burn Blog http://www.burn-blog.com/
The following two tabs change content below.
Managing Editor | Mark is a freelance journalist based out of Los Angeles. He's our Do-It-Yourself specialist, and happily agrees to try pretty much every twisted project we come up with.
Latest posts by Mark Masker (see all)