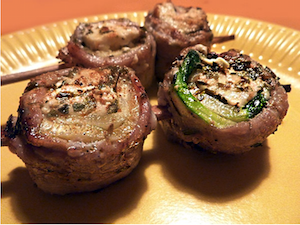 This recipe is a classic in German BBQ forums (I believe credit may go to Thorsten in Wesel). It goes like this: Brushed with olive oil, thinly sliced zucchini strips are softened on the grill. The strips are then wrapped around feta cheese cubes that were dipped in a mix of oregano and other spices. Make the mix as spicy as you like! Finally, the packages are tightly wrapped with thin strips of lean pork, fixed with a skewer, then grilled to perfection. I made these when
Dave and his wife Mary Jane came visiting us in Bardolino, Italy in the spring of 2015.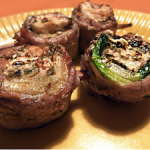 Greek Lollipops
2015-07-16 01:25:50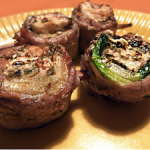 Heat Scale: Medium
Ingredients
1/2 pound lean lamb or pork
2 medium-sized zucchini (about 1" in diameter)
Olive oil
1 package (7 oz./200 g) feta cheese
Oregano, dried
Red pepper flakes to taste
Barbecue rub or spice
8 skewers (wood or metal)
Instructions
Cut the two zucchini into thin 1" wide strips, brush with olive oil and grill just long enough to become a little soft and flexible.
Cut feta cheese into 1" cubes and roll in oregano (or a mix of oregano and red pepper flakes).
Tightly wrap the zucchini slices around the spiced feta cubes.
Cut the lamb or pork into thin slices, also about 1" wide, brush lightly with olive oil.
Wrap the meat strips tightly around the zucchini/feta packages. Place instantly two packages each on a skewer (when wooden skewers are used, soak these in water first, for about 30 minutes).
Optional: Dust with your favorite barbecue rub or spice mix (Cajun mix makes a good match).
Lightly brushed with a little olive oil, place the "lollipops" on a medium-hot grill with direct heat for about 15-20 minutes.
Invite Dave and have him occasionally turn the skewers to brown all sides.
Burn Blog http://www.burn-blog.com/
The following two tabs change content below.
European Chilehead Editor at Large | Harald's Chili Pepper Buch 2.0 is the bestselling chile book in German-speaking Europe. He covers European chilehead culture and his own spicy kitchen encounters for Burn Blog.
Latest posts by Harald Zoschke (see all)