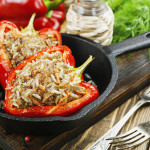 Over at our big sister, the Fiery Foods and Barbecue Super Site, there's a great article called Ground Unbound. It's a collection of uses for ground meat. You should go check it out. First, though, here's one of the recipes.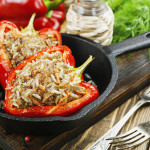 Southwestern Stuffed Red Bell Peppers
2015-07-15 17:45:00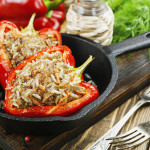 Serves 5
Heat Scale: Medium
Ingredients
1 pound lean ground beef
1 cup chopped onion
2 cloves garlic, minced
2 8-ounce cans tomato sauce
½ cup chopped green chiles
1 cup cooked rice
1/8 teaspoon cumin powder
½ teaspoon ground thyme
1/4 teaspoon ground savory
½ teaspoon salt
1/4 teaspoon freshly ground black pepper
5 large red bell peppers, stems and seeds removed, roasted over flames, skins removed
5 small wedges of jalapeño Monterey jack cheese
Instructions
Brown the beef in a large skillet. Add the onion and the garlic and saute for 2 minutes. Drain or blot off excess grease.
Add one can of the tomato sauce, green chiles, rice, cumin, thyme, savory, salt, and pepper to the sauteed meat mixture and mix well.
Stuff the meat mixture into the bell peppers.
Place the stuffed peppers in a shallow glass baking pan, so they are all stacked against each other and won't fall over.
Pour the second can of tomato sauce into the pan. Add enough water to bring the liquid depth up to ½ inch.
Tent the peppers with aluminum foil and bake for 30 minutes in a 350 degree oven, basting the tops of the peppers with the tomato sauce base.
Add a wedge of the cheese into the center of each pepper when they are almost finished baking.
Adapted from Ground Unbound
Burn Blog http://www.burn-blog.com/
The following two tabs change content below.
Managing Editor | Mark is a freelance journalist based out of Los Angeles. He's our Do-It-Yourself specialist, and happily agrees to try pretty much every twisted project we come up with.
Latest posts by Mark Masker (see all)