An alternative to hamburgers that make a great light meal served with a side salad or as cocktail party hors d'oeuvre.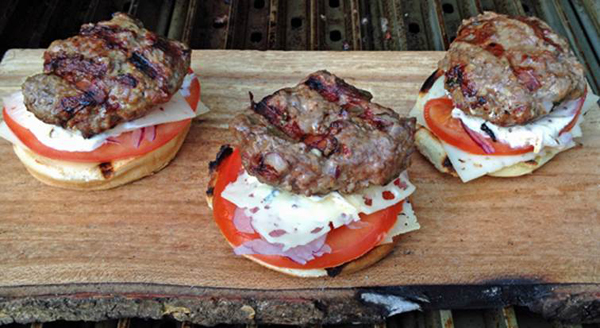 Lamb Sliders with Lemon-Mint Aïoli
2015-07-16 12:05:35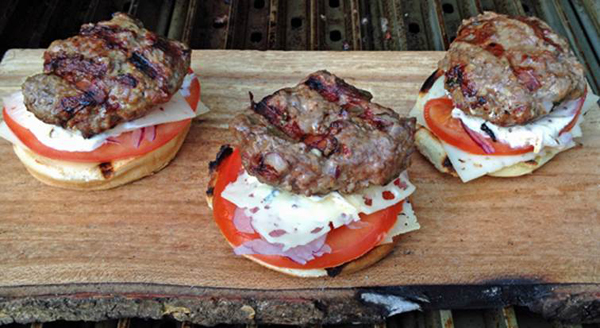 Heat scale: Mild
Ingredients
1 pound ground lamb
6 small hamburger or slider buns (about 3-inches square), halved, buttered and toasted
5 tablespoons olive or canola oil, divided
1/4 cup chiffonade cut fresh mint
1 large shallot, finely diced (about three tablespoons)
1 tablespoon ketchup
1 clove garlic, minced (about one teaspoon)
1 teaspoon ground cumin
1/2 teaspoon crushed red pepper flakes
Coarse kosher salt
Freshly ground black pepper
For the aioli
1 cup good-quality mayonnaise
1/3 cup chiffonade cut mint
1 tablespoon fresh lemon juice
2 cloves garlic, minced (about 2 teaspoons)
1 teaspoon coarse grain mustard
1 teaspoon lemon zest, minced
Toppings
6 slices Swiss or Gruyère cheese
6 leaves lettuce, cut to size
6 tomato slices
6 slices thinly sliced red onion
Fresh mint leaves
For the aioli
Combine all the aïoli ingredients in a small bowl and reserve. (This aïoli also makes a nice salad dressing or served atop vegetables such as steamed asparagus or green beans.) The aïoli will keep, covered and refrigerated, for up to three days.
For the sliders
Heat two tablespoons of the oil in a small skillet over medium-high heat. Add the shallots, 3/4 teaspoon salt and 1/4 teaspoon pepper. Sauté until the shallots are soft, about three minutes. Add the garlic and cook until aromatic, about 30 seconds. Remove the pan from the heat and cool.
Heat a charcoal or gas grill with GrillGrates installed to medium-high heat. (My Broilmaster P-3 gas grill has been retro-fitted with five 5 1/4-inch by 16 1/4-inch GrillGrates completely replacing the original cast iron cooking grates.)
Combine the cooled shallot mixture, lamb, ketchup, cumin, crushed red pepper flakes, mint, 1/2 teaspoon salt and 1/4 teaspoon pepper in a medium bowl. Form the mixture into six patties each 2 1/2-inches in diameter and 1/2-inch thick (about 2 1/2- to 3-ounces each). Use your thumb to press a dimple into the center of each lamb burger. Brush the patties with the remaining oil and grill until cooked through, about three to four minutes per side or to an internal temperature of 160 degrees F. Let the patties rest, tented with foil, for two minutes.
Assemble the sliders by liberally spreading the aïoli on each surface of the toasted bun. Top with cheese, lettuce, tomato, onion and mint as desired. Place the patties in the buns and serve.
Notes
Mike Stines, a retired professional chef and cookbook author who holds a Ph.B. (Doctorate in Barbecue Philosophy) from the Kansas City Barbeque Society, has eight different grills and smokers. They are all outfitted with GrillGrates.
Burn Blog http://www.burn-blog.com/
The following two tabs change content below.
Grilling & BBQ Editor | Mike holds a "Doctorate of Barbeque Philosophy" (Ph.B.) degree from the Kansas City Barbeque Society. His book Mastering Barbecue has been called the "go-to" book for BBQ knowledge.
Latest posts by Mike Stines (see all)