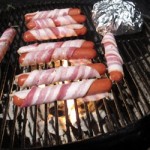 Candy caning dogs in swine is by no means a Los Angeles thing. The New York Times ran this great article on Mexico's part in their origin story but I'm never one to leave well enough alone, so I changed it up a bit. Anything you can do with a hot dog is generally as good if not better when executed using Italian sausage, chorizo, or brats instead, no?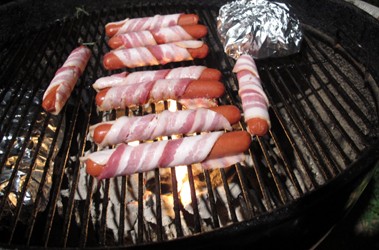 Bacon-wrapped Bratwursts with Grilled Garlic and Habanero Relis
2015-07-16 12:08:21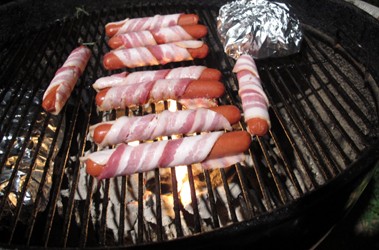 Serves 5
Heat Scale: Medium to Hot
Ingredients
1 package of your favorite bratwursts (usually 5-8 in a pack)
A matching number of center cut bacon slices
A matching amount of club rolls (sliced open like a clam shell)
1-2 chopped habanero pepper
5 chopped cloves of garlic
1 chopped green bell pepper
1 chopped medium onion
Olive oil
1 teaspoon cumin
1 teaspoon fresh ground black pepper
1 teaspoon sea salt
Assorted condiments (mustard, ketchup, hot sauce, mayo, etc)
Instructions
Fire up the grill. While it's heating, sauté the onion and green bell pepper in a little olive oil with a little salt and pepper until the onion slices are clear and the bell pepper has changed to a more olive green in color. Turn off the heat but put a cover over the pan to keep the veggies warm.
When the grill reaches a medium-high heat, place the brats and the foil packet on it. Turn the sausages every 3 minutes until they're almost done (they shouldn't droop when you lift them with your tongs). You'll also want to flip the packet after five minutes and let it grill during the next step. Take them off the grill for about five minutes. During that time, brush a little olive oil on one side of each bacon slice. Then, wrap each brat with a slice, corkscrew style, and place it back on the grill. Move the foil packet off to the side or remove it from the grill completely when you put the bratwursts back on the grill. Turn the sausages as before until the bacon is done. Grill the rolls at the same time, if desired.
Once the bacon is sufficiently grilled, remove everything from the grill. Make a bed of the vegetables in each roll, set a brat on it, garnish it with the relish, and add the condiments of your choice.
Notes
Hot dogs from my original run depicted in photo.
Burn Blog http://www.burn-blog.com/
The following two tabs change content below.
Managing Editor | Mark is a freelance journalist based out of Los Angeles. He's our Do-It-Yourself specialist, and happily agrees to try pretty much every twisted project we come up with.
Latest posts by Mark Masker (see all)