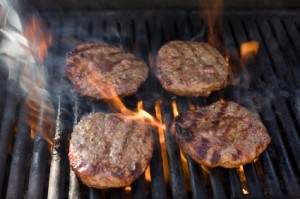 Q: If I want to use wood chips in my gas grill to add more smoke, what's the best method? What chips work best?
A: There are a few ways to add smoke to a gas grill. One is to use a smoke box… a cast iron or stainless steel box that holds wood chips and is placed over a hot burner, like this box by
Mr. Bar B Q. Another method is to place a handful of wood chips in an aluminum foil packet and pierce the packet with a table fork a few times. Put the packet directly on a hot burner. If you're using an infrared grill, you can add wood chips directly to the cooking chamber.
Some say the chips should be soaked in water (or another liquid such as beer or wine) for an hour or so before going on the grill. I use dry chips but that's my preference.
My favorite chips are apple wood. They add a sweet note to most meats. Alder chips could be used for fish. Sugar maple is also very good for smoking. Mesquite is very powerful… use it in moderation.
ASK CHEF MIKE YOUR OWN QUESTION ABOUT GRILLING, CHILES, GADGETS, OR OTHER FOOD AND COOKING TOPICS. SEND HIM A MESSAGE HERE.

Mike Stines is a professional chef and the Grilling and Gadgets Editor for the Burn! Blog. Mike holds a "Doctorate of Barbeque Philosophy" (Ph.B) degree from the Kansas City Barbeque society. His book—Mastering Barbecue (Ten Speed Press, 2005)—has been called the "go-to" book for BBQ knowledge.