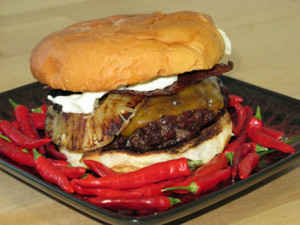 I've loved Big Kahuna burgers since I first met Red Robin's version in high school. They're a bit of a balancing act, though. Between the pineapple and the teriyaki sauce, it's real easy to go overboard. Go out of balance and you end up with a sweet, sugary mess…
I've been jonesing a good teriyaki burger for a few weeks and looking for a chance to tweak the teriyaki pineapple marinade in Flavorize. This was a win-win. The easy route would have been to just mix up the sauce, marinate the ground chuck, and slap it all together. It would also be, well, normal.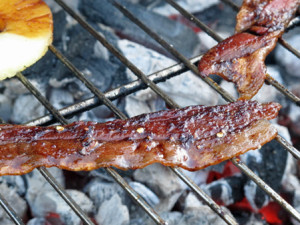 That's why I spiced up Dr. BBQ's sauce with a minced Thai chile from my garden, marinated the bacon instead, used a kona coffee rub on the beef, and went with a King's Hawaiian hamburger bun. I was really happy with how everything balanced out; the Thai chile and some wasabi mayo offset the sweet with a spicy kick. Here's the recipe.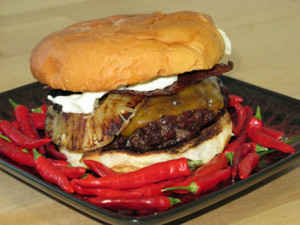 Spicy Teriyaki Candied Bacon Burger
2015-08-18 14:23:14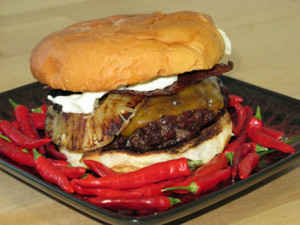 Heat Scale: Mild
Teriyaki Marinade
1/2 cup honey
1/2 cup dark soy sauce
1 finely ground Thai chile
4 cloves crushed garlic
2 tablespoon fresh grated ginger
1 tablespoon sesame oil
1/2 teaspoon cracked black pepper
8 slices of thick cut bacon
Patties
l lb 80/20 ground beef chuck
1/3 cup Kona coffee beans
1/4 cup brown sugar, packed
1 tablespoon coarse Alaea sea salt
4 slices of pineapple
4 slices of mild cheddar cheese
4 King's Hawaiian hamburger buns
wasabi mayonnaise
Instructions
Mix the ingredients teriyaki sauce ingredients. Put enough sauce in a zip lock bag to coat the bacon. Add the bacon to the bag, shake to coat it with the sauce, and marinate it in the fridge for half an hour to an hour.
Put the rub ingredients into a grinder or processor and blend them together.
Hand mix the rub with the beef. Break the mixed beef into four equal-sized parts, roll each into a ball, and press the beef into patties. Put the meat into the fridge.
While the yummy sits in the refrigerator, heat your grill to a medium-high temp.
Grill the bacon and pineapple slices first. The bacon should only take a couple of minutes per side. The pineapple may take 3-4 minutes to a side depending on how hot your grill gets. You want to cook it just long enough to get some pretty grill marks on each side.
Grill the patties with the lid closed, 4-6 minutes per side. After flipping, add the cheese, pineapple, and bacon to each patty.
During the last minute of grilling, brown the buns on the grill.
Spread the wasabi mayo on the top buns, assemble the burgers, and get chowing.
Burn Blog http://www.burn-blog.com/
The following two tabs change content below.
Managing Editor | Mark is a freelance journalist based out of Los Angeles. He's our Do-It-Yourself specialist, and happily agrees to try pretty much every twisted project we come up with.
Latest posts by Mark Masker (see all)