My veggie beds were more re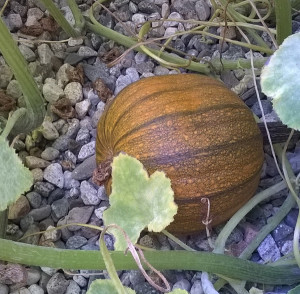 productive than a family of Mormon rabbits. The hot box alone produced tons of chiles, from Thai to jalapeno and habanero. I also raised sugar pumpkins from seed, coaxing a dozen good ones from some top soil in the Los Angeles heat. There's plenty more harvesting to be done, but if the early Halloween candy at my supermarket is any indication, fall is looming just up ahead. That's why my first experiment with all this bounty is smoked pumpkin chili.
Oh, believe me. I know how weird that sounds. The voices in my head won't shut up about it. It's pretty easy to make and I'm definitely adding this one to my fall menu options. You can find out how I make smoked pumpkin here.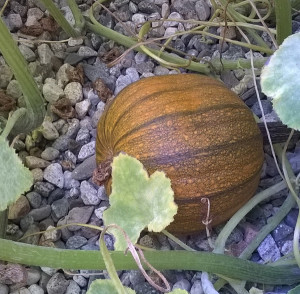 Smoked Pumpkin Chili
2015-08-28 01:59:33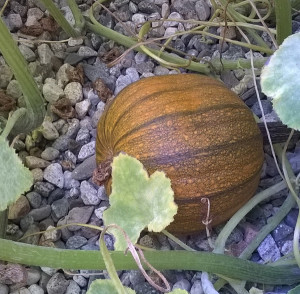 Heat Scale: Medium to Hot
Ingredients
2 lbs ground beef
1 diced onion
1 diced orange bell pepper
2 cans kidney beans, drained
1 can tomato juice
1 can peeled and diced tomatoes, with juice
1/2 cup smoked or normal pumpkin puree
1 tablespoon pumpkin pie spice
1 tablespoon chili powder or your favorite hot sauce (Sizzlin' Sauces Howlin' Hollar is what I used)
1/4 cup white sugar
Instructions
Brown the meat in a frying pan. Drain it.
Stir in the onion and bell pepper. Cook for 5-7 minutes over medium heat.
Mix in the beans, tomato juice, tomatoes, and pumpkin. Then add the sugar, hot sauce, and seasonings.
Simmer for one hour.
Burn Blog http://www.burn-blog.com/
The following two tabs change content below.
Managing Editor | Mark is a freelance journalist based out of Los Angeles. He's our Do-It-Yourself specialist, and happily agrees to try pretty much every twisted project we come up with.
Latest posts by Mark Masker (see all)