This brick-red mole, courtesy of Restaurante El Naranjo in Oaxaca City, is made with chile ancho, sesame seeds, and almonds. It's also part of our Day of the Dead story here.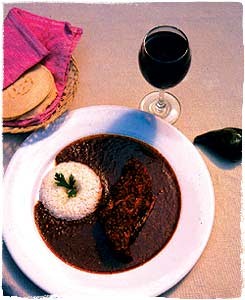 Mole Coloradito
2015-10-15 12:05:02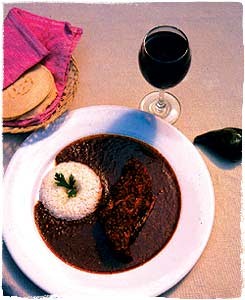 Heat Scale: Mild to medium
Ingredients
10 ancho chiles
1 pasilla chile
4 large roma tomatoes
4 medium cloves garlic, unpeeled
3 tablespoons vegetable oil
2 slices day-old bread
15 blanched almonds
½ cup sesame seeds
10 black peppercorns
1 tablespoon dried Mexican oregano (preferably Oaxacan)
3 whole cloves
3 tablespoons vegetable oil
1 piece Mexican cinnamon (approximately 1 inch)
3 cups chicken stock
Salt
2 tablespoons sugar
8 pieces chicken or pork, cooked
½ medium onion
3 garlic cloves
Salt
Instructions
Clean the chiles with a damp cloth, then discard the seeds and stems. Roast the chiles slightly on a hot skillet. Transfer to a pot with hot water, and let them soak for 20 minutes.
On a separate skillet, dry-roast the tomatoes and the unpeeled garlic cloves.
Add 3 tablespoons oil to a skillet and fry the bread until pale gold. Add the blanched almonds, sesame seeds, oregano, black peppercorns and cloves. Reserve.
Meanwhile, heat the oil in a big pot, blend the chiles with enough fresh water, and add to the pot. Let it fry for about 8 to10 minutes. Blend the reserved nuts and spices along with the tomatoes, garlic, and enough water. Add to the cooking pot.
Blend the cinnamon with a little water and pass through a sieve over the mole. Simmer until thickened, about 20 minutes.
Add the chicken stock and bring to a boil. Let cook for 15 minutes, then add salt and sugar to taste. The mole should cover the back of a spoon.
Add boiled chicken (see below), let simmer for 10 minutes, and serve with rice and tortillas.
To cook the chicken: Bring 2 quarts water to a boil, add ½ onion, 3 cloves garlic and salt. When boiling, add the chicken pieces and let it boil until the meat is done.
Burn Blog http://www.burn-blog.com/
The following two tabs change content below.
Managing Editor | Mark is a freelance journalist based out of Los Angeles. He's our Do-It-Yourself specialist, and happily agrees to try pretty much every twisted project we come up with.
Latest posts by Mark Masker (see all)