What are the Scovie Awards?
Now in its 18th year, the Scovie Awards is the world's largest professional competition for fiery foods and BBQ products.
Produced by Dave DeWitt's Sunbelt Shows—producers of the National Fiery Foods & BBQ Show—the Scovies give manufacturers the chance to see how their products stand up to the competition. A Scovie win gives a company the opportunity to promote their product as a top performer, and catches the attention of store buyers who are planning their inventory orders.
Scovie winners benefit from extensive exposure on Sunbelt's multiple websites and blogs, and receive banners they can use to promote their winning products at food shows. Whether you have a new company just putting your first product on the market, or you are an established company with a new product line, the Scovie Awards competition is the place to prove that your product is the best!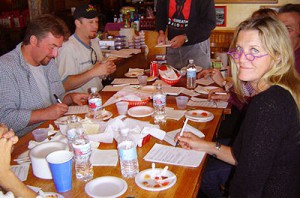 As an additional benefit of entering the Scovie Awards competition, companies can request an Analysis Report of their entries. The report will include a breakdown of the judging sheets, including high and low scores, average scores by judging criteria, full comments and a professional review of the product's packaging.
Congratulations to our 2013 Scovie Grand Champions!
OK chileheads, the waiting's over! After tabulating the results of the 2012 Scovie Awards, we have named the winners! Here are our grand champions in the two divisions—Tasting and Advertising/Marketing. For a complete list of this year's winning products, visit www.scovieawards.com.
Tasting Division:
Lusty Monk Mustard
Albuquerque, New Mexico
Steve Monteith
LustyMonk.com
Advertising and Marketing Division:
Jungle Heat Sauces and Jellies
Ron Savoie
Oshawa, Ontario, Canada
JungleHeatImports.com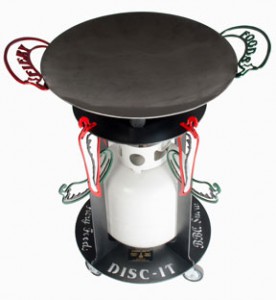 The grand prize winners will each receive a personalized Disc-It Grill, the revolutionary patio cooker. Thanks to Scovie sponsor Disc-It.com.
This year we had a total of 805 entries from the U.S., up from 792 last year.  Four countries were represented: the U.S., Canada, Australia, and Panama. The judging was held at the County Line BBQ Restaurant in Albuquerque. Our thanks to the dozens of dedicated, heat-seeking judges who volunteered their time to judging this year's entries.
Watch the Burn! Blog for a full profile on each of our grand champions, coming soon!
"It was almost like that first kiss; the anticipation was nerve wracking and the results were beyond my wildest dream.  It was a great experience and I can't wait to try it again."
Jeff Shepherd, Lille Belle Farms, 2008 Scovie Grand Prize Winner
"The Scovie Analysis Report gave me professional feedback that allowed me to fine tune the flavor and heat level of our CrispyFire Gourmet Spicy Popcorn. Thanks to the judges' feedback, we have a product that tastes great and gives you a good burn."  Chris Murdock, owner CrispyFire
"Winning the Grand Prize of the 2006 Scovie Awards has put my company (Ashburn Sauce Company) and myself into another league in the sauce world and has opened a lot more doors." –Willard Ashburn, Ashburn Sauce Company