"Banger" is a British and Irish colloquialism for sausage. Most bangers are pretty mild in flavor but this recipe adds some heat to the sausages with the addition of cayenne and crushed red pepper flakes. Shown is a famous British breakfast, bangers and mash (that would be mashed potatoes).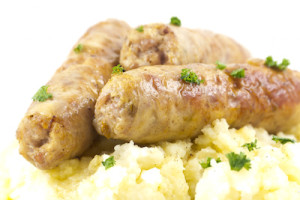 British Bangers Ingredients
1/2 pound ground pork
1/2 pound ground veal
6 ounces ground suet
3 slices white bread made into bread crumbs
2 teaspoons dried sage
2 teaspoons onion powder
1 teaspoon grated lemon peel
1 teaspoon seasoned salt
1 teaspoon crushed red pepper flakes
1/2 teaspoon lemon pepper
1/2 teaspoon black pepper
1/2 teaspoon ground cayenne chile
1/4 teaspoon grated nutmeg
1/4 teaspoon mace
1/4 teaspoon dried thyme
1/4 teaspoon dried marjoram
1 large egg
5 feet hog casings
Instructions
Knead the pork, veal, suet and bread in a medium mixing bowl. Add the remaining ingredients (except the hog casings) and mix well to incorporate.
Stuff the mixture into hog casings.
Finished bangers may be poached, broiled or grilled.
The following two tabs change content below.
Grilling & BBQ Editor | Mike holds a "Doctorate of Barbeque Philosophy" (Ph.B.) degree from the Kansas City Barbeque Society. His book Mastering Barbecue has been called the "go-to" book for BBQ knowledge.
Latest posts by Mike Stines (see all)