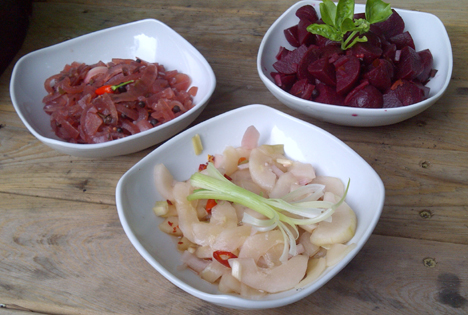 You've got a great barbecue planned for the afternoon—spare ribs with a sweet Kansas City-style sauce, pulled pork sandwiches and some grilled sweet corn. A great combination!
Now you're looking for some ideas for side dishes that will withstand the hot weather and not make your guests ill. Here's what I like to serve: Thai-style cucumber salad, horseradish pickled beets and pickled red onions. Add some chipotle butter for the corn and you'll have a great meal with complementary flavors and tastes.
Thai-style Cucumber Salad
2 cucumbers
1 tablespoon plus 1/2 teaspoon kosher salt, divided
1/2 cup rice wine vinegar
1/3 cup water
2 scallions, bias-sliced (white and light green part only)
2 (or more) Thai chiles (or 2 teaspoons crushed red pepper flakes)
2 slices red onion, minced
1 tablespoon minced Thai basil
Peel the cucumbers, slice them in half length-wise, and use a melon baller or teaspoon to scrape out the seeds. Slice the cucumbers into 1/4-inch slices and place them in a colander. Sprinkle the cucumbers with one tablespoon of kosher salt and allow them to drain at least one hour. Salting the cucumbers will draw out some of the moisture, making for a crisper salad.
Meanwhile, stir together the remaining salt, rice wine vinegar, and water in a small bowl. Rinse the cucumbers and drain them well. In a medium mixing bowl, combine the cucumbers, scallions, chilies and red onion. Add the rice wine marinade and stir it all to incorporate. Refrigerate the mixture for at least one hour. Garnish it with the basil and serve.
Heat Scale: Medium or more
Serves: 2-4
Horseradish Pickled Beets
For this recipe, you could use fresh beets and prepared horseradish, but by making your own horseradish you can control the heat level. Canned beets make this a breeze to prepare.
Prepare the horseradish:
1 (7- to 10-inch) horseradish root
White vinegar
Peel the horseradish and cut it into chunks. Use a food processor to grate the horseradish, being careful not to inhale the fumes. Allow the grated horseradish to rest. The longer it rests, the hotter it will become. When the horseradish reaches the desired heat level, cover it with white vinegar and pulse to combine. Drain the horseradish and transfer it to a resealable container. The horseradish will keep, refrigerated, for two weeks or frozen up to six months.
For the relish:
2 (16-ounce) cans whole beets
1/2 cup granulated sugar
1/4 cup white vinegar
1/2 cup sliced red onion
2 tablespoons lemon juice
1 teaspoon kosher salt
1/4 cup well-drained horseradish
Drain the beets, reserving the liquid. Quarter them or leave them whole. In a medium saucepan combine the beet liquid, sugar, vinegar, onion, lemon juice and salt. Heat the mixture over medium-low heat until the sugar dissolves. Remove the liquid from the heat and cool; when cooled pour it over the beets. Add the horseradish and stir to combine. Allow the beets to marinate for at least eight hours or up to three days.
Heat Scale: Varies by preference
Serves: 2-4
Pickled Red Onions
This also works well as a topping for your favorite burgers.
2 large red onions
1 1/2 cups white vinegar
1/3 cup granulated sugar
3 cloves garlic, sliced
2 Bay leaves
2 tablespoons pickling spice
1 teaspoon freshly-ground black pepper
1 small chile (such a serrano), minced
Peel the onions, cut them in half lengthwise and finely slice. In a medium saucepan over medium heat, combine the vinegar, sugar, garlic, bay leaves, pickling spice and pepper. Stir this until the sugar dissolves. Add the onions and blanch for one minute. Drain the onions, reserving the liquid. When the liquid is cool, pour it over the onions and add the chile. Refrigerate the onions at least four hours to allow the flavors to combine.
Heat Scale: Mild
Serves: 2-4
Chipotle Butter
This compound butter adds great flavor and a little heat to grilled sweet corn, a nice rib-eye, or a swordfish steak. It's also a tasty addition to freshly-baked corn muffins.
1/2 cup (1 stick) unsalted butter, softened
1 teaspoon lime zest
4 teaspoons fresh lime juice
2 teaspoons minced chipotle in adobo or 1 teaspoon ground chipotle powder
1/2 teaspoon coarse kosher salt
Combine the ingredients in a small mixing bowl until well mixed (leftover chipotle in adobo may be stored in the refrigerator for two weeks or frozen up to six months).
Heat Scale: Mild
Serves: 2-4
The following two tabs change content below.
Grilling & BBQ Editor | Mike holds a "Doctorate of Barbeque Philosophy" (Ph.B.) degree from the Kansas City Barbeque Society. His book Mastering Barbecue has been called the "go-to" book for BBQ knowledge.
Latest posts by Mike Stines (see all)