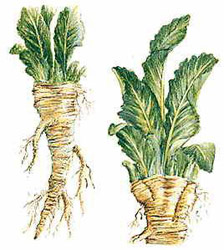 Q: What's a good use for horseradish besides cocktail sauce or as a side with roast beef? And what makes it so hot?
A: Horseradish is a root, similar to wasabi, and a member of the mustard family. Prepared horseradish is grated horseradish root combined with distilled vinegar. It has almost no taste until grated when the cells are crushed to release a volatile oil that produces the "heat."
I love horseradish… the hotter the better, but if you purchase jarred horseradish (Gold's® is an excellent commercial brand) you're pretty much stuck with the heat level. By timing the addition of vinegar to freshly minced horseradish, you can make the horseradish as hot or as mild as you prefer. The sooner you add the vinegar after grating (one to two minutes), the milder the finished horseradish will be. I like to wait 8-10 minutes before adding the vinegar.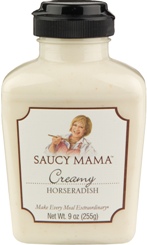 Editor's Note: If straight horseradish is too much for you, try "Saucy Mama" Creamy Horseradish by Barhyte Foods. It's sort of a horseradish/mayo blend that's smooth, but still has a kick! This product won the top honor in the 2011 Scovie Awards Competition, so you know it's got to be good.
Fresh horseradish
1 7-inch (11-ounce) horseradish root
2 tablespoons water
White vinegar
Using a vegetable peeler, peel the horseradish root and cut into one-inch cubes.
Place the cubes in a food processor and add the water. Pulse until the horseradish is somewhat smooth. Process the horseradish, scrapping the sides of the work bowl, until it is the consistency you desire.
(Be careful not to get too close to the grated horseradish when removing the cover. This is powerful stuff and will bring tears to your eyes and clear out your sinuses!)
Allow the horseradish to bloom to the desired heat level and add enough vinegar to cover. Pulse to incorporate. Drain the horseradish through a fine strainer and transfer to a storage container.
The horseradish will keep, refrigerated, for about one month although the flavor will diminish over time. Discard the horseradish if it turns brown.
Vinegar stabilizes the degree of hotness; the longer you wait before adding the vinegar, the hotter the horseradish will be. (My recommendation is to wait at least five minutes before adding the vinegar.)
Here are some ideas for using fresh horseradish:
Add a teaspoon of horseradish to a glass of tomato juice for a morning eye-opener…
Add one tablespoon of horseradish to two tablespoons of sour cream and two tablespoons of mayonnaise to create a wonderful spread for roast beef sandwiches or cooked beef…
Spread fresh horseradish on a salmon fillet, drizzle with lemon juice and broil…
Add a tablespoon or two of fresh horseradish to mashed potatoes…
Make a compound butter for vegetables and sweet corn. Combine one tablespoon of fresh horseradish with one stick of softened unsalted butter.
Mustard Horseradish Sauce
This version of horseradish sauce is excellent with roast pork or grilled chops.
1 1/2 teaspoons prepared horseradish (or more to taste)
1/3 cup mayonnaise
1/3 cup sour cream
1 tablespoon country-style Dijon mustard
1 tablespoon cider vinegar
Coarse kosher salt & freshly ground black pepper, to taste
Whisk the ingredients together in a small mixing bowl until incorporated. Allow the flavors to blend for at least two hours before serving.
Horseradish Sauce
Horseradish sauce can be prepared using whipped cream, yogurt or sour cream. I prefer the sour cream version. While usually served with roast beef or prime rib, this sauce is also very good on baked potatoes!
3 tablespoons prepared horseradish, drained
1/2 cup sour cream
1 tablespoon mayonnaise
1 tablespoon minced fresh chives
1 teaspoon Dijon mustard
Coarse kosher salt & freshly ground black pepper, to taste
Whisk the ingredients together in a small mixing bowl until incorporated. Allow the flavors to blend for at least two hours before serving.
ASK CHEF MIKE YOUR OWN QUESTION ABOUT GRILLING, CHILES, GADGETS, OR OTHER FOOD AND COOKING TOPICS. SEND HIM A MESSAGE HERE.

Mike Stines is a professional chef and the Grilling and Gadgets Editor for the Burn! Blog. Mike holds a "Doctorate of Barbeque Philosophy" (Ph.B) degree from the Kansas City Barbeque society. His book—Mastering Barbecue (Ten Speed Press, 2005)—has been called the "go-to" book for BBQ knowledge.