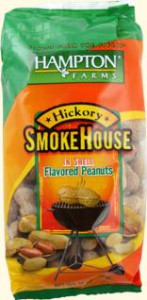 Vegetarians and vegans rejoice! Now you, too can enjoy the delicious goodness of a great hunk of smoked meat…without the guilt. The geniuses over at Hampton Farms have married the flavor of hickory smoke with dry-roasted peanuts for a truly addictive new snack. In fact, I'm eating them in between sentences at my computer.
Now, I'm not generally an in-the-shell-peanut-eating kinda gal. I'm usually too lazy to bother with the mess, but for this product, I'll make an exception. According to the package, since the early 1900's, Hampton Farms has been devoted to producing the finest snacks available. With no added oils or preservatives, these dry-roasted nuts have a very simple ingredients list: peanuts, salt, natural flavors. But the real story is the great smoked flavor—they're incredibly satisfying to eat. And when you're done, your fingers smell like you've just torn the bark off a great piece of brisket. What other peanut can claim that?
The front of the package shows a ginormous peanut cooking on a kettle grill. I wonder how they keep the little peanuts from falling onto the coals. You can find these new Hickory Smokehouse Peanuts in stores like Kroger, Ralphs, Food Lion, and others. If you want to buy them online, you can order directly from Hampton Farms' online store here. Now please excuse me…I have to vacuum the peanut shells out of my keyboard.
The following two tabs change content below.
Lois Manno
Lois is the Editorial Director of the Burn! Blog and the Fiery Foods & BBQ SuperSite.
Latest posts by Lois Manno (see all)