As three-year-olds go, the Disc-It Round Up is pretty developed and well-behaved. It's an event the folks at Disc-It started in 2009 as their way of giving back to UNM Children's Hospital for all the care that Disc-It front man Nevin Montano's daughter and nephew received in the past. Round Up year one saw 350 attendees; that number ballooned to 2500 people for 2010. This time, an estimated 5000-7000 people showed up at the Hard Rock Casino Albuquerque on July 16th looking to sample a wide range of Disc-It grilled creations.
It works like this: each year, cooking teams compete on Disc-Its making whatever they want. The public samples the food and casts votes in five different categories (three for cooking, plus Best Booth and Most Unique) to determine the winners. People also share their recipes while they eat. Picture 51 cooking teams and 68 custom Disc-It grills going full blast and you get an accurate mental picture of the scope of this year's event. Here are some of the winners for you stat geeks following at home:
Event winners:
1st Place: Team Los Carnales Motorcycle Club—Dish: Calabacitas
2nd Place: Ms. Yvonne's Petite Apple Pies—Dish: Petite Apple Pies
3rd Place: Team Piggly Wiggly—Dish: Chipotle Maple Pork with Sweet Potato Curly Q Fries
Ticket Sales Winner: Team Los Carnales
Disc-It Drawing Winner: Cherry Shockley of Albuquerque, NM
There was also an auction for a custom Disc-It that went for $675. At two bucks a ticket, that's pretty good. This year's Round Up generated approximately $70,000 for the Children's Hospital. Disc-It is hoping next year's event will hit the $150,000 mark while bringing 100 or more teams out to compete. For more information, click here.
We spoke to Nevin earlier today and got him to send us some of the recipes. If you aren't lucky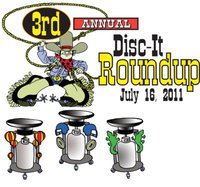 enough to own a Disc-It, you can use a wok. But the food won't taste quite as good, because you won't be cooking outdoors on your Disc-It, surrounded by admiring friends and family!
Spiced Pork Tenderloin with Maple-Chipotle Sauce
Created by Team Piggly Wiggly
The Pork (aka "The Piggly")
½ tsp. salt
½ tsp. dried thyme
¼ tsp. ground nutmeg
¼ tsp. ground cinnamon
¼ tsp. freshly ground black pepper
1/8 tsp. ground all spice
2 (1 lb.) pork tenderloins, trimmed and sliced in 1" slices
To prepare the piggly (pork), combine the first 6 ingredients and sprinkle the mix evenly over the pork tenderloin. Place the meat in a large Zip-lock plastic bag. Seal it and refrigerate the pork for 2-3 hours. Heat a "Disc-It" to medium hot. Cook the pork slices 3-4 minutes per side but do not overcook. Dip the pork into the sauce and serve.
Maple-Chipotle Sauce:
1 3-ounce can of chipotle chiles, canned in adobo sauce
½ cup pure maple syrup
3 Tbsp. chicken broth
½ Tbsp. apple cider vinegar
Remove 2 teaspoons of adobo sauce from a can of chiles and reserve the remaining chiles for another use. Mix the adobo sauce, syrup, broth, and vinegar in a small saucepan. Cook the mixture on medium heat for 5 minutes, stirring constantly. Remove it from the heat, drizzle the sauce over the sliced pork, and serve.
A NOTE FROM THE CHEFS: If more heat is desired, increase the amount of chiles/adobo sauce. We double the sauce recipe and serve extra sauce with the sliced pork.
Curly Sweet Potato Fries (aka "The Wiggly")
1-2 medium-large sweet potatoes, cleaned, peeled, and cut into Curly Q's.
2 cups vegetable oil (for frying).
Heat your "Disc-It" to medium hot. Fry the potatoes until golden brown (be careful not to burn them). Season the potatoes with 2 parts sugar and salt and 1 part paprika. Put the seasoning into a shaker and season the hot sweet potatoes.
Serves 6-8
Heat Scale: Mild to Medium
Chicken Lo Mein
Created by Team Axis
¾ pound chicken tenderloins, sliced lengthwise (marinated in teriyaki sauce)
½ cup low sodium chicken broth
½ tablespoon sesame oil
2 tablespoons vegetable oil
½ teaspoon ground ginger
¼ teaspoon white pepper
½ teaspoon sesame seeds
¼ tablespoon minced garlic
¼ cup teriyaki sauce
1 package fully cooked Lo Mein noodles (9 oz.) (or linguine noodles)
3 green onions, sliced on the diagonal
½ cup shredded cabbage
½ cup fresh bean sprouts (or favorite vegetables)
Heat the oil in the Disc-It over medium heat, add the marinated chicken pieces, and sauté until golden brown and cooked through. Remove the chicken and set it aside. Add the chicken broth, ginger, white pepper, teriyaki sauce, sesame oil, to the Disc-it and bring it all to a boil. Next, add the Lo Mein noodles and cook them for about 1-2 minutes. Add the green onions, cabbage, and bean sprouts, and simmer until the vegetables are tender-crisp, then sprinkle with sesame seeds.
Serves: 6
Heat Scale: Not
Green Chile Honey Chicken Fajitas with Black Bean Salsa
Created by Boy Scouts of America Troop 166 and Cub Scout Pack 450
2 lbs of chicken cut into fajita-style strips
2 teaspoons dried green chile
1 can of white and yellow corn
2 cans of black beans
2 diced tomatoes
garlic salt
2-3 diced green chiles
2-3 diced avocados
2 teaspoons olive oil
2 tablespoons honey
flour or corn tortillas
Soak the chicken in the dry green chile and a little olive oil. Leave it alone in the fridge for several hours – maybe even overnight. Cook the chicken in the Disc-It until it is almost done, then add the honey. Stir this until the chicken is done.
For the salsa, drain the water from the corn and black beans, then mix the remaining contents together. Add at least two diced tomatoes, and any spices that you like (garlic salt is recommended). Stir in the diced green chiles and avocado as well as the two teaspoons of olive oil.
Serves: 6
Heat Scale: Not
Crispy Wontons
Created by K & K
1 pound ground pork
½ pound ground shrimp
Diced water chestnuts
Diced green onions
1 egg
Garlic salt
Pepper
Wonton wrappers
Combine all the ingredients except the wrappers. Heat oil in a Disc-It to about 400 ºF. Take one tablespoon of the mixture and place it inside the wonton wrapper, then fold. Seal the edges with water. Place the would-be wonton into the heated oil and fry it 3-4 minutes or until light brown and crispy. Place the finished wonton on a paper towel to rest. Enjoy with your favorite sauce.
Serves: 4-6
Heat Scale: Not
Loco Pollo with Tequila and Cilantro Lime Rice
Created by Roger Jimenez
2 lbs cubed boneless chicken
2 cups cubed onions
4 sliced jalapenos
4 sliced yellow hots
6 peeled garlic cloves
1 can of pineapple chunks
1/2 cup apple cider vinegar
1/2 cup brown sugar
1/4 cup white corn syrup
4 shots good silver tequila (not that stuff you make in the bathtub)
1 tablespoon red pepper flakes
Heat the Disc-It and add olive oil to it. Throw in the chicken, season it with salt and pepper, then cook thoroughly. Drink a shot of tequila.
Add the onions, jalapenos, and yellow hots. Cook them slightly but not enough to lose crispness. Drink a shot of tequila.
Add the pineapple (with juice), vinegar, brown sugar, and corn syrup. Bring this to a boil and let it cook down. Sprinkle the red flakes over mixture, and…
…drink a shot of tequila.
Serve the finished Loco Pollo over the cilantro lime rice (see below).
Drink last shot of tequila.
Cilantro Lime Rice
1/4 cup butter
4 cups cooked rice
1 cup cilantro leaves
2 limes
1 tsp garlic
1 tsp oregano
1/2 tsp cumin
salt and pepper
Coat your heated Disc-It with the butter, then add the rice. Stir it constantly to keep it from sticking (you can turn the flame down). Chop the cilantro leaves and add them to the rice, then squeeze the limes over it as well. Season the rice with the remaining ingredients and stir.
Serves: 4-6 (not counting pickling the chef)
Heat Scale: Medium
Quick and Easy Red Chili
Created by Team Matheson
1 large onion
3 lbs ground beef
1 3-pound can Ranch Style beans
28 oz. Eva's Frozen Red Chili
1 large can of Las Palomas red chili sauce
2 tablespoons of vegetable oil
Coat the Disc-It with the oil and carmelize the onions. Add the ground beef and brown it; then drain off the excess fat. Mix in the beans. Next, throw in the frozen red chili and the red chili sauce. Cook it until it reaches 145 degrees F. For a thinner sauce, you can add beef or chicken stock.
Serves: 6-8
Heat Scale: Mild
The following two tabs change content below.
Managing Editor | Mark is a freelance journalist based out of Los Angeles. He's our Do-It-Yourself specialist, and happily agrees to try pretty much every twisted project we come up with.
Latest posts by Mark Masker (see all)