I spent part of last weekend in an altered state of reality, my perceptions twisted by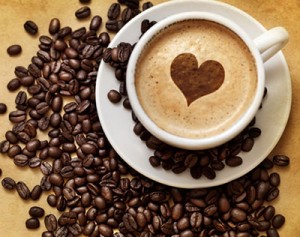 chemicals. And I wasn't alone…in fact, fifteen thousand people joined me in this orgy of excess. What I am describing might sound like the world's biggest rave, but in fact the mind-altering substance at this party was completely legal. I'm talking caffeine, of course—in the form of chocolate, coffee, and tea at the Third Annual Southwest Chocolate & Coffee Fest.
According to that repository of all worthwhile information—Wikipedia, "Caffeine is a bitter, white crystalline xanthine alkaloid that acts as a stimulant drug. Caffeine is found in varying quantities in the seeds, leaves, and fruit of some plants, where it acts as a natural pesticide that paralyzes and kills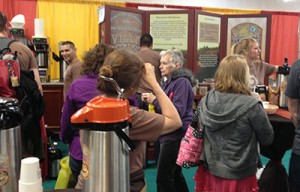 certain insects feeding on the plants, as well as enhancing the reward memory of pollinators. It is most commonly consumed by humans in infusions extracted from the seed of the coffee plant and the leaves of the tea bush, as well as from various foods and drinks containing products derived from the kola nut.
In humans, caffeine acts as a central nervous system stimulant, temporarily warding off drowsiness and restoring alertness. It is the world's most widely consumed psychoactive drug, but unlike many other psychoactive substances, it is legal and unregulated in nearly all parts of the world. Beverages containing caffeine, such as coffee, tea, soft drinks, and energy drinks, enjoy great popularity. In North America, 90% of adults consume caffeine daily."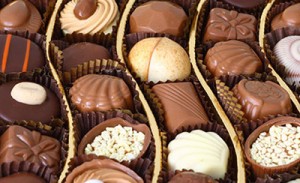 I'll say. And many of the Albuquerque users were with me at the Expo NM State Fairgrounds in Albuquerque. The festival is the brainchild of Dean Strober, who was blown away by this year's attendance of 15,000 adoring addicts. 104 exhibitors gave out samples—there were hot coffee sampling stations from Villa Myriam and other vendors. If coffee was not your delivery method of choice, you could mainline Mesoamerican Hot Cocoa from Santa Fe's Kakawa Chocolate House, or overdose on exquisite chocolates from companies like C.G. Higgins. Sweet & Saucy showcased their huge line of fudge and caramel sauces, including a new Chipotle Chile Fudge. How could one resist?
There were some fabulous non-chocolate vendors as well, like Celina's Biscochitos, which caught my eye with their traditional Mexican cookies prepared with red chile. I also took home some Chile Chocolate Azteca butter from the Butter Beautiful folks. They snagged me with this dark brown spread comprised of butter, cocoa, cayenne pepper, chile powder, and chipotle powder. Subtle chile heat combined with the richness of cocoa worked incredibly well in this butter. They also had a barbeque flavored butter (that's what I said…wow!) and a Dragon Breath butter with a touch of ultra-hot chile.
If you were at the National Fiery Foods & BBQ Show a couple of weeks ago, some of these names will be familiar, because there was a fair amount of overlap in the New Mexico-based vendors. Chileheads rule at the Fiery Foods Show, but when it comes to over-the-top addiction, those Caffeine Fiends can definitely hold their own.
The following two tabs change content below.
Lois Manno
Lois is the Editorial Director of the Burn! Blog and the Fiery Foods & BBQ SuperSite.
Latest posts by Lois Manno (see all)