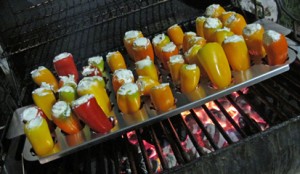 You know you're onto something good when your grilling buddies buy you everything you need to keep making it every week. Or almost everything. My cream cheese garlic poppers were such a hit with the crew that some of them actually buy the ingredients I need to make them for me. What they haven't gotten me is a jalapeño popper rack for the occasion.
That's where Jalapeño Jeaven's Jeavenly Host entered the story. They exhibited at the National Fiery Foods and Barbecue Show this year and agreed to let me review one. I was interested in what they had to offer not just because I needed a popper rack. Theirs had one significant difference worth noting—prongs.
Each hole in the stainless steel Swiss cheese that is a Jalapeño Jeaven rack is ringed by eight support prongs underneath. Not only do they lend added to support to each pepper to keep it from falling through, they also let heat flow upward for more even cooking, bottom to top. The rack itself sits roughly two inches above the surface of the grate thanks to S-shaped handles on the ends. I couldn't wait to break it in on the grill.


Jalapeno Jeaven gives you three size options for popper racks. Cherub, the baby, cooks six peppers and sells for $24.95. The Angel Grill is good for 15 cheese-filled hotties and costs $34.95. If you've got a hungry bunch of primitive grillheads threatening to cook you if you don't hurry up and finish their favorite appetizer (like I do), you may want to look into the Jeavenly Host ($69.95). It'll bring an even heat to 35 peppers and it's stackable to boot. For an extra $5 you can get a full kit version of any set—the rack in question plus a pepper corer and a picker (a measuring ring to make sure your peppers have the right width).
I got to try out the Jeavenly Host. I was a little surprised by its light weight. It's light but not weak or flimsy at all. The Jeavenly Host's only drawback was it's biggest advantage—size. At 21 inches long and 9 1/2 inches wide, it's as big a space hog as Jabba the Hutt. I could've wussed out and gone small, but then I'd have to start writing posts about my feelings, glitter, and unicorns. Not that there's anything wrong with these things. Hey, some of my best meals are unicorns.
The Host is anti-social. Unless you're using a very large grate, you'll be grilling with it by its lonesome. However, get a good medium to medium-high heat going under it and the Jeavenly Host grills your peppers in about 3-5 minutes. I had a little bit of charring near the bottoms of them but the tops were cooked nicely as well. I do believe the prongs made a difference. The added support kept the soft, cooked peppers perfectly in place. You just don't want to use peppers that are too tall or they may tip over.
The final test came when I fed the finished poppers to the pack of wild animals waiting for them in the living room. They were gone in five minutes (but they usually are). Overall, the Jeavenly Host made the job easier and also got me thinking. Its supported holes would be great for a lot of other grilling ideas I've never tried but probably will now. Stuffed mushrooms come to mind first…
Burn! Tested: The Jeavenly Host
Author:
Prep time:
Cook time:
Total time:
Ingredients
35 small sweet peppers or jalapeños
8-ounce package of cream cheese
3 teaspoons salt
3 teaspoons black pepper
3 teaspoons granulated onion
3 teaspoons granulated garlic
Instructions
Set the cream cheese out on the counter to warm up.
Wash the peppers and use the corer to remove the tops, seeds, and guts.
In a medium kitchen bowl, mix the warmed cream cheese with the salt, pepper, onion, and garlic.
While the grill heats up to medium or medium high, stuff each pepper with the mixture and place it in the Jeavenly Host.
Set the Host on the grill grate, close the lid, and let the peppers grill for five minutes.
Remove the Jeavenly Host from your grill with a set of oven mitts. Place it where your friends can serve themselves and let them go to town.
The following two tabs change content below.
Managing Editor | Mark is a freelance journalist based out of Los Angeles. He's our Do-It-Yourself specialist, and happily agrees to try pretty much every twisted project we come up with.
Latest posts by Mark Masker (see all)