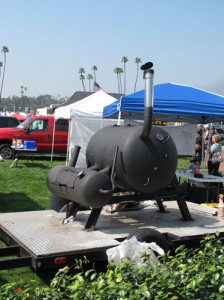 Two weeks ago, I lost my virginity at the race track. Not the normal kind like you lose at a prom or in a prison shower. No, this was baby's first time judging a barbecue competition and it happened at the 2nd Annual Santa Anita BBQ Championships at the famous Southern California race track of the same name.  While there was a certain loss of innocence (or ignorance) involved, it was a wonderful experience that was a real eye opener to something I've always wanted to try. And I didn't have to rent a tux, either.
What I did have to do was show up on time. This was followed by the usual fumbling of a newbie finding his way around foreign territory, complete with a little shy awkwardness. See, much like a young man popping his cherry, you have plenty of experience on your own. Theoretically, you know what to do. You're even required to take a class, if the event is KCBS sanctioned. Maybe your friends have bragged about their own experiences and now you feel pressured to judge as well as they have. The last thing you want is someone laughing at you and thinking you don't know what to do. Having said that, here are some of the things I picked up my first real time out judging barbecue. If you're a veteran barbecue competitor, none of this will be news to you. I'm posting this for other newbies so they don't have to learn it on the streets.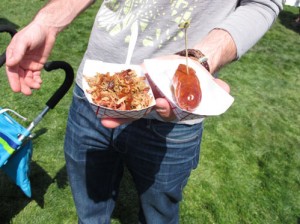 Lesson One: Recon
In all seriousness, though, if you're even thinking about diving into competition barbecue, judge one first. At least one. More if you can. Want to know what judges look for in good 'cue? Become one. In one session of judging, you can learn more about how people score barbecue than in all the trial and error of a decade. This is especially effective if you plan on only going to local competitions; with the same core of folks judging most of the events in an area, knowing how they think barbecue can be invaluable when you take to your grill to compete.
Lesson Two: Jog, Don't Sprint
Unless you have Han Solo frozen in carbonite at home, you're not going to be able to finish everything set before you during the competition. Don't even try. Over the two hours we judged, the folks at my table sampled chicken, ribs, brisket, and pork from six or seven different teams at a try. There's no down time between courses to recover. Even if you take one good bite of every sample you have to try, you'll probably fill up. Moreover, you don't really have time to wolf down everything in one sitting, anyway. It's perfectly fine to pack your leftovers into one ginormous doggie bag, though.
Lesson Three: It's Not About What You Like
Barbecue judges are more like jurors. You've got a set of criteria upon which to grade entries and score them from two to nine. Personally, I like some char on my grilled animals. We were ordered not to consider the presence or absence of bark when assigning grades to entries, though, so that didn't matter. There were three categories for scoring food: appearance, taste, and texture. You'd think the second cat would have the most leeway as far as judges making a decision (appearance: did it look good or not; texture: was it tender without being mushy). This didn't actually turn out to be the case, though. While there was certainly wide variation among the yummies we sampled, in talking with the other judges between rounds, it seemed like the more balanced flavors were the way to go. One rib I tried was so overly sweet I thought it had been dipped in high fructose corn syrup and red dye before turn in. Another was so salty it was akin to rib jerky. While these things may be your preference for the backyard, that's probably not going to cut it in a room full of strangers.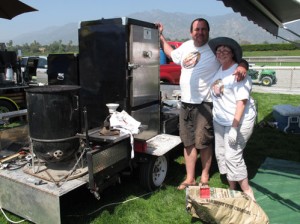 Most of the offerings were great, however. Two hours after I'd sat down to judge, I got up, grabbed my weighty doggie bag, and walked around the grounds. Fifty seven teams had come out to compete that day. You could see in their eyes how exhausted and happy they were. Just like the judges. Only ours was brought on by the itis, not hours laboring over a hot grill to make our meat coma possible, like theirs was. By the end of the day, yeah, you could say I was spent. But glowing.
The following two tabs change content below.
Managing Editor | Mark is a freelance journalist based out of Los Angeles. He's our Do-It-Yourself specialist, and happily agrees to try pretty much every twisted project we come up with.
Latest posts by Mark Masker (see all)