By José C. Marmolejo
Not too long ago, I woke up with the desire to cook—and eat—Mole de Tamarindo, or tamarind mole. So, it was time to search for that old recipe that my friend Nushie Chancellor and I "Reversed Engineered" in Austin, Texas, some 20 years ago. That recipe is a story in itself. It started with a Mole sample we got from a restaurant in Mexico City. Yes, someone bought an order of Mole de Tamarindo "to go" in Mexico City and delivered it to us in Austin, Texas. After a few runs, we got a good recipe—below is an adapted version—that was later published in the book The Mexican Gourmet by Dolores Torres Yzabal and Shelton Wiseman.
Time to go to the market—this time in Mexico City—to get the tamarind pulp, the chiles, seeds, nuts, and spices needed for the project. I first went to Mercado La Merced where notwithstanding its extraordinary size, I could not find the tamarind pulp and the mulato chiles were not the quality I wanted, but went home with my anchos, pasillas, seeds, nuts and chocolate. Now, where should I go next to find my tamarind pulp and my mulatos? The obliged answer was: El Mercado de San Juan Pugibet (to properly name it and to distinguish it from other markets with the San Juan name) everything edible that you cannot find anywhere else in Mexico! A true specialty market.
Aside from its exotic array of food ingredients, San Juan Pugibet is a market where you can also sit down and eat a "Comida Corrida" (a humble 3 or 4 course freshly prepared meal for about $3 to $4 USD), but you can also find a place where you can enjoy tapas made with the best Mexican and imported cheeses and cold meats. They can also prepare you a sandwich, baguette, or panino to your liking along with a good glass of wine or a fine beer. And if you are lucky, spontaneously, your cheese purveyor (La Holandesa: 40 to 50 feet long display of cold meats and cheeses) will set you up with a Table à Fromages with excellent bread, a glass of wine—you can bring your own—or an imported beer just as an excuse to make conversation and obviously and deliberately to make a customer. It's "standing room only," but this can be a memorable experience, provided you have the luck, the time, and good company.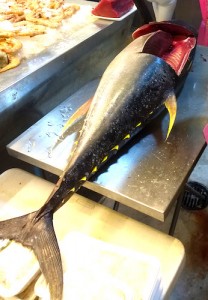 Are you looking for fresh tuna, bison, ostrich or lion meat-—yes, lion from a farm—edible scorpions, tarantulas, worms, ants, or mosquito eggs? Asian or European vegetables or exotic fruits? Fresh turkey, piglet, rabbit or cabrito (baby goat)? Eccentric, but this is the place. Would you like to taste an exotic meat burger? It is possible in some of the food stalls available, notably "El Gran Cazador," a venture that sells exotic meats, but also has a spot where you can sit and order an appetizer made from agave worms, chapulines (grasshoppers) or escamoles (ants' eggs). They can prepare any fish, seafood or meat sold around or if you prefer, a hamburger made from venison, duck, or alligator.
Well, if you are looking for an out of the ordinary experience while in Mexico City, think of El Mercado de San Juan Pugibet. I hope I have transmitted at least a little how extraordinary this place is. El Mercado de San Juan Pugibet is then specialty? exotic? or just plain eccentric? I submit: all of the above. After my visit I went home with a satisfied stomach, my tamarind pulp, some of the best mulatos I've ever seen, the rest of ingredients I needed plus some that I wasn't looking for. Below are some recipes you will enjoy.
Mole de Tamarindo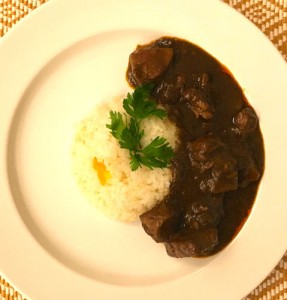 Ingredients
For the meat:
8 serving pieces of chicken, turkey or pork
1/2 onion, chopped
1 to 2 cloves of garlic, minced
Salt to taste
​For the Mole:
2 ounces tamarind pulp
2 ancho chiles
2 mulato chiles
1 pasilla chiles
Vegetable oil
2 cups of the chosen meat stock
1/2 tomato, chopped
1/4 onion, chopped
1 clove of garlic, minced
1 ounce each almonds, pecans, and peanuts
1/2 ounce each sesame seeds and raisins
2 ounces dried prunes
1 clove
1 pinch cinnamon
1 teaspoon sugar
1 ounce Mexican chocolate or bittersweet (dark) with cinnamon
Salt to taste
Water
Instructions
​To cook the meat place it in a stock pot and cover it with water. Add the onion, garlic and salt and bring it to a boil. Simmer for 20 minutes. Reserve both the meat and stock.
For the Mole, soak the Tamarindo pulp in water for about an hour. Meanwhile remove the stems and loose seeds from the chiles and fry them lightly in a bit of vegetable oil until soft but not crisp. Drain, save the oil. Soak the chiles in the stock for about 30 minutes.
Reheat the oil and fry the tomato, onion, and garlic over medium heat for about 5 minutes. Puree the mixture in a blender and pour in a large saucepan coated with a little vegetable oil.
On a griddle toast lightly the almonds, pecans, peanuts, and sesame seeds. Place them in a blender and puree, adding enough stock to make a thick sauce. Add the mixture to the saucepan.
Place the chiles and their stock in a blender and puree. Add more stock if needed to make a smooth sauce. Pour this mixture into the saucepan.
Puree the tamarind pulp and water with the raisins and the prunes in a blender. Add to the saucepan.
Bring the mixture on the saucepan to a slow boil and cook for 5 minutes. Add the clove, cinnamon, sugar, salt and chocolate. If the mole is too thick add stock. Simmer for 15 minutes stirring constantly to avoid burning the sugar.
Heat the meat in the sauce and serve accompanied with rice and corn tortillas.
Yield: 6 to 8 servings
Heat Scale: Medium
Wild Boar with Purslane in Tomatillo Sauce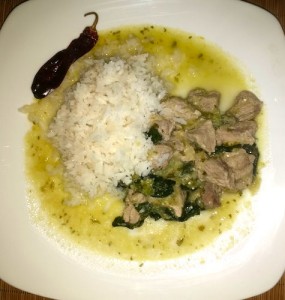 This simple recipe yields a strong complex flavor that is soul food to me. Use pork if you can't find wild boar and spinach if you can't find purslane. Purslane is a common garden weed with succulent leaves.
Ingredients
2 pounds wild boar loin cut in bite-size pieces
Vegetable oil
1 pound tomatillos
1 onion, cut into quarters
2 cloves garlic
Salt to taste
4 serrano or morita chiles
1 sprig cilantro
1 pound purslane, chopped
Instructions
In a saucepan, brown the meat in the oil. Cover it with water. Add the onion, garlic, and salt and bring it to a boil. Simmer for 20 minutes. Drain. Keep the meat in the saucepan. Reserve the stock.
In a blender combine the tomatillos, onion, chiles, cilantro, garlic and salt. Add a cup of stock and puree. Pour this sauce into the saucepan with the meat. Simmer for 10 to 15 minutes adding stock to make a stew. Five minutes before turning off the fire, add the purslane. Serve with rice and corn tortillas.
Yield: 8 servings
Heat Scale: Medium
The following two tabs change content below.
Latest posts by José C. Marmolejo (see all)