Here's a recipe from José Marmolejo's latest article, "Spicy Italian Cooking," here.
Polenta with Ragù and Habanero
This is a corn mush with a spicy tomato sauce.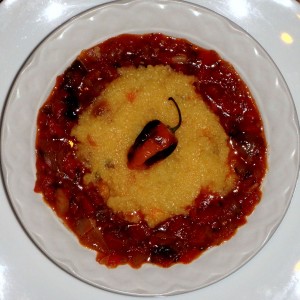 Ingredients
1 celery stick
1 carrot
½ onion
Olive oil
1 pound fresh Tomatoes
1 or 2 cloves garlic
A pinch of fine herbs
Water
Salt to taste
1 pound polenta
1 or 2 fresh habaneros, finely chopped
Instructions
Chop the celery, carrots and onion, sautée them in a pan in olive oil until soft. Chop the tomatoes, mince the garlic, and add them to the sautéed vegetables and cover the pan. Add the water and cook over low flame for 10 minutes. As you can tell, no blender was required and the result will be a rough rustic sauce. If finer texture is desired, blend the tomatoes with the vegetables after being sautéed. Add the fine herbs, water if needed and salt. Mix well, cover again and allow to simmer on a low heat for approximately 10 minutes. Check and stir periodically Following the package instructions for the Polenta cook it with the Habaneros.
Yield: 4 servings
Heat Sale: Hot
The following two tabs change content below.
Latest posts by José C. Marmolejo (see all)