When I think about chile peppers and yarn it usually leads to someone buying me chile pepper socks for Christmas. I'm good with that as I'm a big fan of peppers and keeping my feet warm.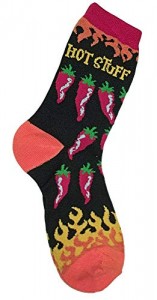 What I don't think of, wouldn't ever have thought of to be honest, is infusing capsaicin into yarn to make pain-relieving socks. Yet, that's exactly what Textile-Based Delivery Inc. (TexDel), a biomaterials platform technology company, and Kentwool Performance Apparel (Kentwool), a premier wool sock brand, are up to even as we speak.

The two partners announced the world premiere of a medicated, pain-relieving sock. The Kentwool SensationWool sock is available now
here
to consumers who need temporary relief of foot-related aches and pains of muscles and joints associated with strains, sprains, arthritis, bruises, cramps, stiffness or soreness. These unique socks are constructed with Capsaicin-infused yarn by TexDel's Nufabrx® platform and superfine Merino wool. Nufabrx is a patented biomaterial technology that incorporates active ingredients onto fibers and is programmed for predictable, effective, washable, long-lasting release. The main active ingredient, Capsaicin is widely recognized as a potent and effective topical analgesic.
For the rest of the story,
check it out here
.
The following two tabs change content below.
Managing Editor | Mark is a freelance journalist based out of Los Angeles. He's our Do-It-Yourself specialist, and happily agrees to try pretty much every twisted project we come up with.
Latest posts by Mark Masker (see all)