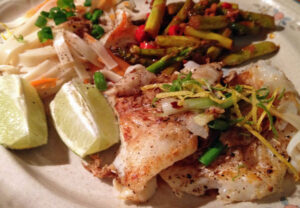 We originally ran this recipe as part of Mike Stines' Sizzling Seafood Part One over at Fiery Foods and Barbecue Central. You'll get more recipes to try there but if you can't wait, here's the ginger sea bass take to get you going. Any firm-flesh white fish (snapper, grouper or striped bass) could be used for this recipe. Serve with steamed vegetables and a salad.
Ingredients
6 black sea bass fillets, about five ounces each, skin on and scaled
3 tablespoons canola oil
2 tablespoons minced ginger
3 cloves garlic, peeled and thinly sliced
3 serrano or Thai chiles, seeded and sliced
4 green onions, thinly sliced lengthwise into three-inch pieces
1 tablespoon Tamari (Shoyu) soy sauce
Coarse kosher salt and freshly ground black pepper
Lemon and lime zest for garnish
Directions
Season both sides of the fillets with salt and pepper. Score the skin on a bias three times to reduce curling.
Heat a large skillet over medium-high heat. Add one tablespoon of the oil. When the oil begins to shimmer fry three of the fillets, skin side down, for five minutes or until the skin is crisp. Turn the fish over and cook for another minute. Repeat with remaining fillets.
Heat the remaining oil and fry the ginger, garlic and chile until golden. Add the green onion and cook briefly.
Drizzle soy sauce over the fish and top with the ginger-garlic mixture. Garnish with citrus zest.
Serves: 3
The following two tabs change content below.
Grilling & BBQ Editor | Mike holds a "Doctorate of Barbeque Philosophy" (Ph.B.) degree from the Kansas City Barbeque Society. His book Mastering Barbecue has been called the "go-to" book for BBQ knowledge.
Latest posts by Mike Stines (see all)