Use this pungent curry to spice up a breakfast or to accompany the main meal. This simple curry from the Mangalore region in southwestern India makes a colorful, tasty addition to any meal. For a spicier curry, double or triple the amount of cayenne powder. You'll find more spicy potatoes here.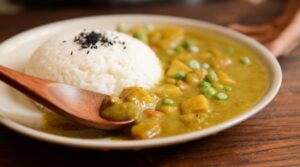 Ingredients
1 tablespoon vegetable or olive oil
3 large onions, chopped
4 cloves garlic, minced
1 1-inch piece of ginger, peeled and minced
1 teaspoon cumin powder
1 teaspoon coriander powder
1 teaspoon cayenne powder
1/4 teaspoon freshly ground black pepper
1/2 teaspoon turmeric powder
6 large potatoes, peeled and diced
4 large tomatoes, sliced
1/2 cup water
2 cups frozen lima beans
Salt to taste
1/2 cup cilantro leaves for garnishing
Directions
In a skillet, heat the oil over medium heat for 1 minute, add the onions, and fry them for about 1 minute. Add the garlic and ginger and continuing frying for 1 minute.
Add the dry powders, mix well, and then add the potatoes and tomatoes, along with water, and cook, covered, for 12 minutes. Add the lima beans, mix well, and cook for 5 minutes. Just before serving, add the salt and garnish with the cilantro.
Yield: 4 servings
Heat Scale: Mild
The following two tabs change content below.
Publisher | Christened the "Pope of Peppers" by The New York Times, Dave DeWitt is a food historian and one of the foremost authorities in the world on chile peppers, spices, and spicy foods.
Latest posts by Dave DeWitt (see all)