Devil's Tart may sound like a binge watch on Pornhub but it isn't. Rather, it's a dessert. At least in this case. See, sweet heat is popular in southern Italy, as evidenced by this tart, which is a specialty of the Sabbia d' Oro restaurant of the Calabrian province of Cosenza. Note: chile jam is readily available from mail order sources.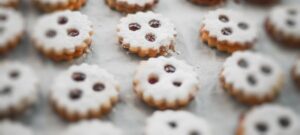 Ingredients
5 ounces soft butter
5 ounces sugar
1 large egg plus 2 egg yolks
1/2 teaspoon grated lemon peel
11 ounces flour
1 tablespoon baking powder
5 ounces orange jam
4 ounces red chile jam (Marmellata di Peperoncino)
4 ounces almonds, peeled and chopped
2 ounces confectioner's sugar
Instructions
In a large bowl, combine the butter and sugar and mix well. Add the egg yolks, egg, and lemon peel.
In another bowl, combine the flour and baking powder and slowly add to the butter-sugar-egg-mixture.
Roll out half of the dough and spread over a tart dish (pie dish).
Spread the orange jam evenly on the dough in the pie dish, and then the chile jam evenly on top of the orange jam. .
Combine the almonds with the remaining half of the dough, mix well, and roll out in the size of the pie dish.
Tightly cover the tart in the dish with the rolled-out dough sheet. Bake the tart at 350°F. for about 30 minutes, until golden brown. Let cool on a rack and dust with confectioner's sugar before serving.
The following two tabs change content below.
Managing Editor | Mark is a freelance journalist based out of Los Angeles. He's our Do-It-Yourself specialist, and happily agrees to try pretty much every twisted project we come up with.
Latest posts by Mark Masker (see all)