It can't be this easy. It just can't. That was my impression in using the MEATER Plus WiFi thermometer for the first time. The company sent me one to test over the holidays. Coincidentally, Traeger also kicked down its new WhistlePig Whiskey Dust and Whiskey Hog BBQ Sauce for me to play with; it seemed like a good idea to introduce you to both in the same project. Both companies also  fall on the tech-savvy side of the barbecue spectrum. That made a dual intro/review a natural. So here we go.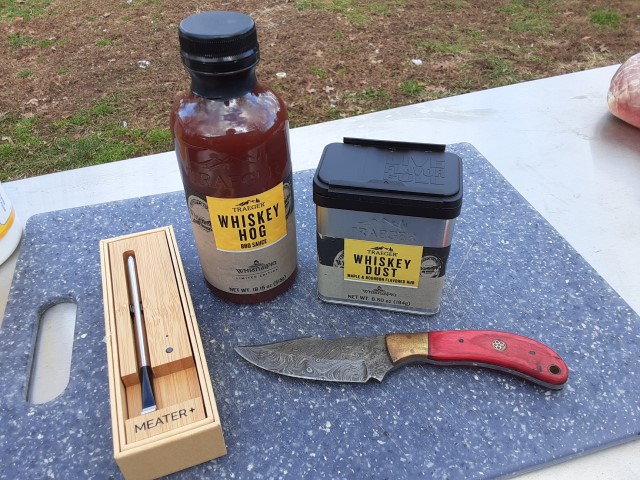 Meet the MEATER Plus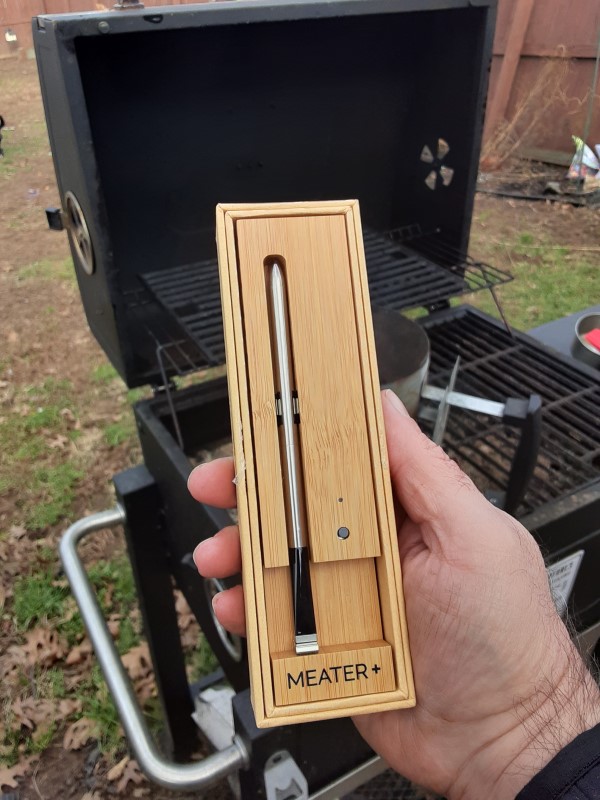 Digital meat thermometers aren't new but the MEATER Plus Wifi version combines simplicity and lots of cool features in one extremely simple package. It consists of a simple, durable metal probe cradled in a little wooden box, with magnets on the back so you can stick it to the fridge when not in use. Once you activate the included rechargeable battery, the MEATER Plus needs to charge for four hours before you can use it. That's also a good time to download the MEATER app from your Android or iPhone app store into your smart phone. When the probe is done charging, you sync it to your phone (or tablet, or both) and the app via Bluetooth and bam, you're all set to start cooking.
MEATER Plus also makes you a free-range chef. The unit's built-in Bluetooth repeater extends the wireless range up to 165ft. That means you don't have to be next to your smoker or in the kitchen while your entree is a-cookin.' Just make sure to keep the charger close to your cooker and monitor it with the app. There also aren't any wires to deal with and the thermometer packs two sensors in a single probe: one for monitoring IT and the other for the ambient temp.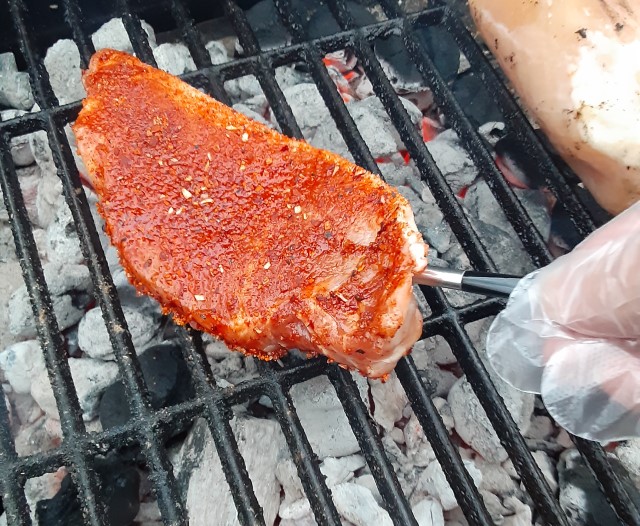 That way, it's more precise for adjusting your cook to suit accordingly. Moreover, the app's guided cooking setup is a big help in getting consistent results. It costs about $99.95 but the MEATER Plus is a high-quality product with great support, making it worth the cost.
Traeger Whiskey Dust and Whiskey Hog BBQ Sauce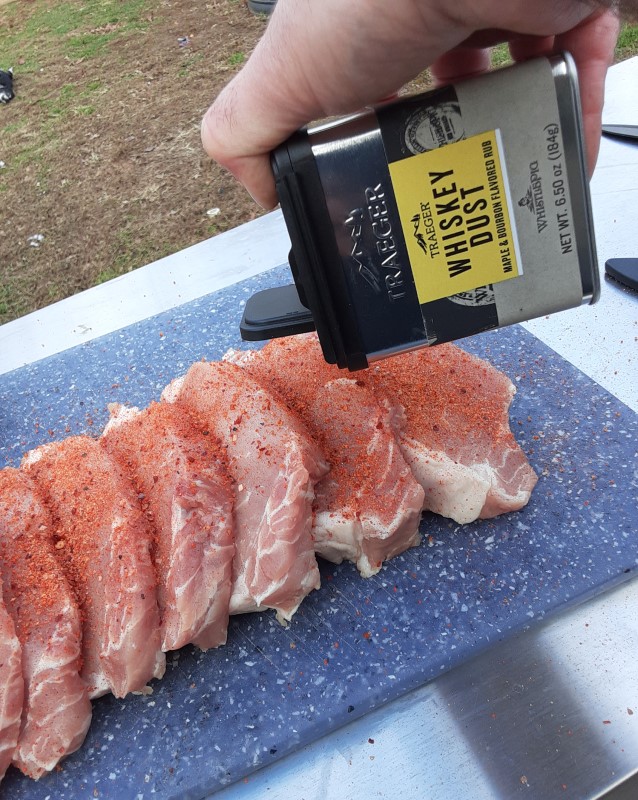 Stabbing a probe into a raw slab of meat is fun and all but if you want it to taste good your victim needs flavor enhancement. Enter Traeger's Whiskey Dust and Whiskey Hog BBQ Sauce. The lovechildren of a collab between Traeger Wood Fired Grills and WhistlePig Rye Whiskey, the rub and sauce bring smoke, whiskey, and maple together to party on your meat. Buying the Whiskey Barrel Pellet Blend rounds out the experience but we haven't had the pleasure of using them yet.
Just like the name implies, the Whiskey Dust is the seasoning rub component of this duo. When you taste it, the maple sugar hits immediately before leading into the barrel-aged bourbon vibe and ending with just enough salty for you to notice. While I liked it by itself, if you really want it to shine, you need the sauce to fill in the blanks with its own blend of seasonings. What's more, the rub's sugar content makes it ideal for low-and-slow projects. If you're using it for directly grilling (like on pork chops, like I did), give a quick sear on both sides and move them over for indirect heat after that. Better yet, sous vide the chops first and then sear. Whiskey Dust's flavor profile is good for most projects but it's really well suited to pork, chicken, and seafood.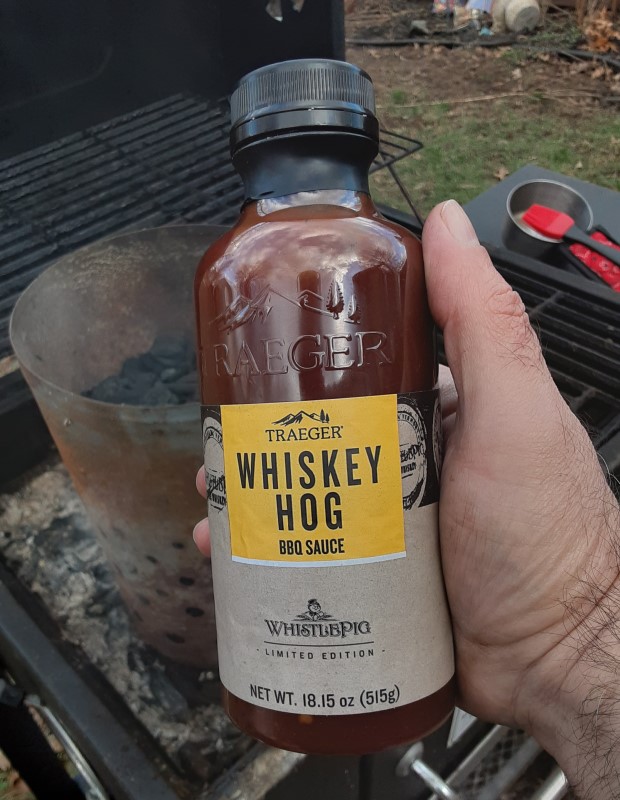 Whiskey Dust lays the foundation but the Whiskey Hog sauce finishes the house. Even though neither product contains any booze, you definitely get a sense that they both go great paired with some. Although this is a good sauce by itself, like with the rub, you get the tastiest results when using them together as a team. It's comprised of all the players you expect in a barbecue sauce, tomato, vinegar, brown sugar, Worcestershire, and so on, but it also connects to the dust via maple syrup. One thing the Whiskey Hog brings to the table is a slightly spicy and peppery finish. It adds the final dimension needed.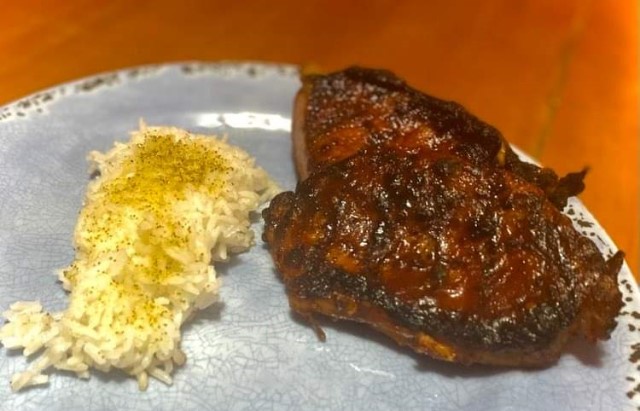 I tested all three products out with some nice, thick pork chops and was very happy with the results. The MEATER Plus kept me posted and worked perfectly; if you're starting a new project with it, you'll get all the information in the app that you need. As for the Traeger products, they worked together very well for balanced flavor and carmelization. I've got a Christmas project in the pipe next that I'll share tomorrow. But if you want to get started on your own, pick up the MEATER Plus here and Traeger's WhistlePig goodness here.
The following two tabs change content below.
Managing Editor | Mark is a freelance journalist based out of Los Angeles. He's our Do-It-Yourself specialist, and happily agrees to try pretty much every twisted project we come up with.
Latest posts by Mark Masker (see all)