By Mike Stines, Ph.B.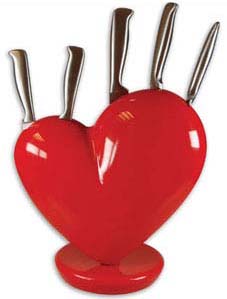 Selecting a knife is a lot like choosing your life partner…make the right decision and you'll be together for a lifetime! Make the wrong choice and your life won't be all that great…at least in the kitchen. And you may end up bloody, to boot.
But how to choose? Just like women (and men, for that matter), knives come in a dizzying array of styles, weights, and shapes. Here I'll focus on the workhorse in the kitchen—the chef's knife—and two other knives I consider essential: a paring knife and a serrated knife. A chef's knife, also called a French knife, slices, cuts, minces and chops everything from fresh herbs to primal cuts of meat. Paring knives are used to peel fruits and vegetables, while a serrated knife is used to slice bread, sausages, tomatoes and such.
There are basically three types of knives: blocked (stamped) knives, forged knives and sintered knives. Stamped knives are exactly that: the blades and tangs (the part of the knife that goes in the handle) are stamped from thin sheets of stainless steel. Forged knives are—you guess it—forged from a single piece of stainless steel. Sintered knives are made by welding the steel blade and the tang together. Generally, stamped and sintered knives are less expensive than forged knives but are equally durable. Forged knives have more weight and better balance.
Ceramic knives, made of zirconia with nearly the hardness of diamonds, are great for mincing and dicing vegetables and herbs, but fall short when it comes to handling routine kitchen chores such as cutting through bone. The blades, although extremely sharp, are somewhat fragile and subject to chipping. I equate this to marrying a high-maintenance, spoiled rich girl. It might be fun for a while, but the staying power is dicey. Kyocera's six-inch ceramic chef's knife sells for $89.95 while Shenzhen's similar knife costs $39.95. Visit their websites at shenzhenknives.com and kyoceraadvancedceramics.com.
My "go to" knives are the Wüsthof Classic series, from the collection of brands that include Le Cordon Bleu, Culinar, Grand Prix II and Ikon. Wüstof knives are hand-crafted and expensive. With the exception of the low-end "Emeril Wear" and Gourmet line of stamped knives, the only difference between Wüsthof's other brands is the handle design. An eight-inch Classic chef's knife goes for around $150. A Classic boning knife is $89.95 and the Classic paring knife is $39.99. More information is at wusthof.com.
Another popular German knife is the Henckels line, which offers both forged and stamped knives. Their Pro-S series are forged, while the Twin series are stamped one-piece knives. A Pro-S eight-inch chef's knife is about the same price as Wüsthof's Classic chef's knife, while the stamped Twin chef's knife is around $65. The paring knife $44.95. Henckels knives are available at zwillingus.com. Nothing like having some German discipline in the kitchen.
Henckels recently collaborated with chefs Jeffrey Elliot and James P. DeWan to create Zwilling J.A. Henckels Complete Book of Knife Skills (on amazon.com here). It will teach you everything you need to know about forging a happy relationship with your beloved cutlery.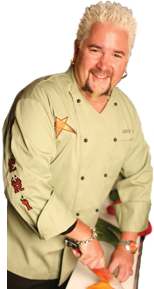 Recently introduced by Ergo Chef is the Guy Fieri (of Food Network's Diners, Drive-In & Dives series) "Knuckle Sandwich" knives with a sexy ergonomic design and stamped high-carbon German stainless steel blades. This line of four knives includes an eight-inch chef's knife for $76, a 5.5-inch Santoku-style vegetable knife for $55, a 5.5-inch utility knife for $45 and a four-inch paring knife for $35.
The "Knuckle Sandwich" carbon steel handle is inlaid with a black-and-red resin design featuring a steel star (start ordering, Texans). The blade is printed with stylized flames and Guy's logo. If they weren't absolutely cool looking, they'd be tacky. Imagining marrying one of Kardashians. I used the "knuckle sandwich" chef's and vegetable knives in a professional kitchen for almost three months the honeymoon still isn't over.
I also like the stamped knives manufactured by Mundial and sold by Mad Cow Cutlery (madcowcutlery.com). Mad Cow has assembled a seven-knife set that is geared toward those doing competition barbecue but it's a great collection for any cook. The knives are commercial-quality stainless steel and feature the Mundigrips, a performance handle created for comfort. The set retails for $175.95 and is a good choice for those looking for a quality knife set at a reasonable price.
Most relationships require periodic tuneups, and your kitchen knife partnership is no different. Keep the pleasure honed to exquisite sharpness with a diamond sharpening steel ($47 to $180). Sharpening steels do not actually sharpen the blade—they realign the edge. If things turn truly dull and can't be restored with the steel, take your knives to a professional sharpening service to have the blades reground.
Considering all the beautiful blades in the world, the best way to select your life partner is to take the knife on a date. Don't commit to the first one that lets you touch it—visit specialty shops that carry a lot of different knives and try them out. See how the knife fits in your hand, how well-balanced it feels, and decide how much you're willing to spend. Fortunately, a really good knife still costs less than a diamond engagement ring.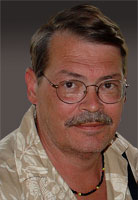 ASK CHEF MIKE YOUR OWN QUESTION ABOUT GRILLING, CHILES, GADGETS, OR OTHER FOOD AND COOKING TOPICS. SEND HIM A MESSAGE HERE.
Mike Stines is a professional chef and the Grilling and Gadgets Editor for the Burn! Blog. Mike holds a "Doctorate of Barbeque Philosophy" (Ph.B) degree from the Kansas City Barbeque society. His book—Mastering Barbecue (Ten Speed Press, 2005)—has been called the "go-to" book for BBQ knowledge. His website is CapeCodBBQ.com.)
The following two tabs change content below.
Grilling & BBQ Editor | Mike holds a "Doctorate of Barbeque Philosophy" (Ph.B.) degree from the Kansas City Barbeque Society. His book Mastering Barbecue has been called the "go-to" book for BBQ knowledge.
Latest posts by Mike Stines (see all)