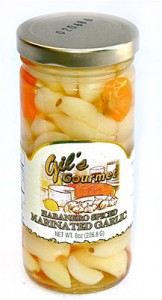 People celebrate Easter in different ways. Some hide dyed eggs in the yard and tempt diabetes with chocolate bunnies, others make lovely ham dinners.
Then there are twisted people like me, who are more Elmer Fudd and Wile E. Coyote than Easter Bunny. I like to celebrate with this recipe for crock pot rabbit chili. Over the next week or so, I'll be blogging a few other spicy recipes you can use to turn this holiday on its ear.
Rabbit Chili
Author:
Prep time:
Cook time:
Total time:
Ingredients
3-4 lbs. cut up rabbit
1 lg. onion, chopped
1 (12 oz.) can tomato paste
2 cloves Gil's Gourmet Habanero Spiced Marinated Garlic
5 diced tomatoes
2 tsp. ground cumin
2 tsp. sea salt
2 tsp. black pepper
1/2 oz. cooking chocolate, unsweetened
2 tsp. red chile powder
1 lb. black beans, soaked overnight and drained
Instructions
Set the crock pot on high.
Stew the rabbit, onion, and enough water to cover the rabbit until the meat is tender enough to remove the bones. Retain the juices in a stock pot.
Chop the rabbit up, then combine it with everything else but the juices in the crock pot. Add just enough of the juices to cover the rest of the ingredients. Resume cooking either on low for another four hours or high for two hours.
The following two tabs change content below.
Managing Editor | Mark is a freelance journalist based out of Los Angeles. He's our Do-It-Yourself specialist, and happily agrees to try pretty much every twisted project we come up with.
Latest posts by Mark Masker (see all)