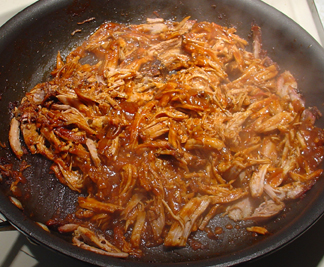 Barbecue cooking isn't rocket science nor, however, does two plus two equal four on the grill. Barbecue is low and slow cooking, not baking (that's more chemistry than cooking). The meat is done when it's done; you can guesstimate so many minutes per pound but you'll rarely be right on the money.
Believe me! I've cooked a lot of barbecue in the past thirty-something years and I like to think I know what I'm doing but every now and again I'll get a piece of meat that knows more than I do and does what it wants to do, not what I want it to do.
A perfect example is a Boston Butt (pork shoulder) that I cooked the other day. It was a small bone-in shoulder weighing a bit less than five pounds. Given the usual 1 1/2 to 2 hour per pound rule, it should have taken seven to ten hours to be properly cooked and smoked using my ceramic smoker filled with Basques charwood and with the PartyQ controller set for 225 degrees F. Wrong! It was done in about six hours!
One of the rules of barbecue: be sure to use a remote reading thermometer to keep a constant check on the internal temperature of the meat. You don't want to be opening the lid every hour and using your Thermapen. That just lowers the smoker temperature, releases smoky goodness, and prolongs the cooking time. I started out with a small bone-in butt… it weighed about 4.9 pounds. After cooking, it was three pounds; after pulling, removing the fat and the bone, it was about 2 3/4 pounds; enough for five eight-ounce sandwiches.
As with most of my barbecue, I brushed a light coating of ballpark mustard all over the meat and then generously applied a dry rub of herbs and spices before putting the meat on the smoker. For this pulled pork I used a Carolina-style rub.
Carolina-esque Pork Rub
1/4 cup sweet paprika
2 tablespoons coarse kosher salt
2 tablespoons granulated sugar
2 tablespoons dark brown sugar
2 tablespoons cracked black pepper
2 tablespoons granulated onion
1 tablespoon granulated garlic
1 tablespoon ground cumin
1 tablespoon ground cayenne pepper
1 tablespoon dry mustard
Combine the ingredients in a mixing bowl and stir well to incorporate. This seasoning blend will keep about 2 months if stored in an airtight container.
After rubbing the meat, wrap it with food film and refrigerate it for least eight hours. Bring the meat to room temperature while preparing the smoker.
For this cook, I used a Grill Dome ceramic cooker and a PartyQ draft controller from BBQ Guru. The Grill Dome is excellent in holding temperature while being very efficient in using fuel. The PartyQ is a battery-operated draft controller than will keep your smoker's temperature exactly where you want it to be without constant monitoring. (Unlike other BBQ Guru controllers, the PartyQ does not monitor meat temperature.)
Fill the Grill Dome firebox three-quarters full with lump char wood and ignite. Add four chunks of apple wood and one cup drained apple wood chips; stabilize the temperature of the Grill Dome at 225 degrees F. Place the pork on the cooking grate over a drip pan.
Close the lid and smoke the pork for three hours. Spray the pork with apple juice and continuing cooking, spritzing every hour, until the pork reaches an internal temperature of 190 degrees F.
When the pork reaches an internal temperature of 190 degrees F., transfer the meat to a clean baking sheet. Tent it with aluminum foil and let it stand for about 30 minutes (the internal temperature will continue to rise to about 195 degrees F., the optimal temperature for pulled pork). When the pork is cool enough to handle, shred it into bite-size pieces. The pork may be cooked one day ahead, shredded, and covered with foil or food film. Unless you like having food poisoning, we recommend refrigerating it.
Place the shredded pork into a large cast iron skillet and cook over medium heat until warmed (this will help remove any residual fat from the pulled pork). Add your favorite sauce and cook until bubbling. Pile the shredded pork onto the bottom of a hamburger bun, top with a healthy dollop of Carolina-style slaw and the second half of the bun.
For a sauce, you could use a Carolina-style mustard sauce or a ketchup-vinegar mixture, like this one.
Ketchup-vinegar Barbecue Sauce
2 cups good-quality ketchup
2 cups apple cider vinegar
6 tablespoons dark brown sugar
2 tablespoons ballpark (yellow) mustard
2 tablespoons dark molasses
2 teaspoons coarse kosher salt
1 teaspoon crushed red pepper flakes
Combine the ingredients in small saucepan and bring to a simmer over medium-low heat, stirring often.
Heat Scale: Mild
Serves: 5
The following two tabs change content below.
Grilling & BBQ Editor | Mike holds a "Doctorate of Barbeque Philosophy" (Ph.B.) degree from the Kansas City Barbeque Society. His book Mastering Barbecue has been called the "go-to" book for BBQ knowledge.
Latest posts by Mike Stines (see all)