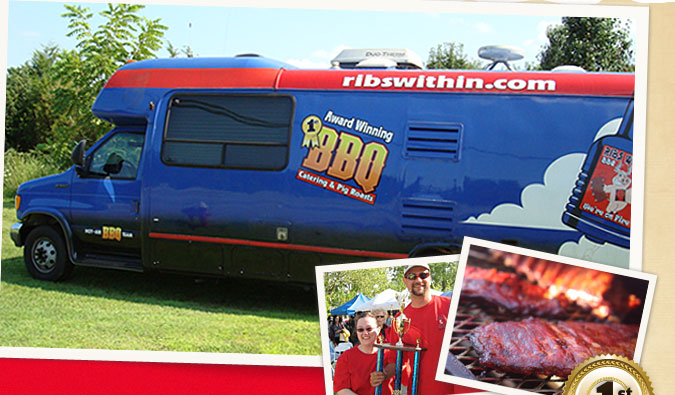 Shortly after I interviewed Rick Browne about his appearance on Chopped Grill Masters, a pitmaster of my acquaintance named Doug Keiles let me know he'd competed on the show as well. I was both happy for and jealous of him for that. What's really good for you and I, though, is that Doug let me pick his brain about his television debut.
Ribs Within is the barbecue/cooking team he captains out of New Jersey. He's a multi-award-winning grillaholic whose signature move is a flavor combo mixing Asian, Caribbean, and Cajun influences. Here's what he had to say about Chopped.
BB: What's the biggest adjustment you make cooking on TV versus at home or in competition?
DK: "To be in the environment was so rough and rugged. Whatever I did tried to feature the four ingredients without going crazy with goofy, bells-and-whistles stuff. There were so many variables. The little voice in my head said, 'stay in yourself, don't go crazy.' However, my tendency is to turn on a dime and go crazy. For a lot of the pantry items, there was only one of each in the pantry—one stick of butter, one mascarpone, etc. I'm used to being thrown a lot of stuff and working with it. If I went back on the show again, I'd be a lot more calm about it. I hope I do."
BB: What were the biggest challenges? It looks like those oysters gave you fits.
DK: "I grew up kosher. I married a woman allergic to shellfish. I had very limited experience with oysters. When I saw them I thought, 'How can this possibly be? Give me some meat, something to grill.' It took me 8 of the 24 minutes just to open them. When it comes to barbecue skills and grilling, I can cook any meat you want. I can understand how fire affects them all. But when it comes to make an oyster tasty? Seat of my pants.
We (the chefs) met the night before, talking about our weaknesses, and on a whim we watched how to shuck oysters online. I tried to do four on the grill and they would not open and were so hot when you touched them you couldn't open them after. On a barbecue team, thirty minute turn ins are normal for us but not 20 from start to finish. The clock was laughing at me. I'd never cooked a rabbit before,either. Again, the kosher household thing. But I know how to grill. Also, the puff pastry took three minutes off my time and that's a whole lot when you only have thirty to cook. We've tried wrapping a lot of stuff with puff pastry and fruit tends to break it down so I was surprised that guy used pineapple. I knew with 5 minutes left rabbit wasn't going to be done; I could have done the old slit trick but didn't want to lose the juices. I'm used to KCBS where you get one bite and better make it the best you can."
BB: How were you approached for the show?
DK: "That's a great story. We were in Orlando. In New Jersey, they have a teacher's convention. Every year, they give us the first week off for it. We were in Orlando watching Chopped during that week. My wife says, 'Wouldn't it be great if they had a grilling Chopped?' When we got home, there was a message on the answering machine: 'This is Chopped casting. Would you like to apply?' I called back and talked to them for a half hour. There's a long application process online. I didn't hear back for about a week. They wanted to Skype interview ended up narrowing down the field from 300 people via Skype to 30. I had a great interview. I was well coached (one of my teammates is a media consultant). I told them I love to grill, cook, barbecue, surprise with flavors you've never had before. I've never had anyone taste my barbecue and say 'I've had that before.' I don't do allergens, MSG, or phosphates. We love it and we rip it and that's how we go. Recently we've been focusing on our details. Anyway, after that, there was a regular interview and they said, 'we'd like to invite you to be one of the sixteen.'"
BB: How is it different than what we see on TV?
DK: "The editing. The time frames and expressions are real. What you talk about, and how they use what we talk about. They ask you five questions five times and they use your best answer. There's a large amount of editing in post-production. We talked about a half hour about the kosher aspect and you don't see any of it. They make it look very serious like I'm doing it for my wife, and that's true, but they left out all the funny stuff. They chose the story arc to tell. I can live with that. There was one phrase I said about my wife being gluten free and I took a lot of flak online for it as if I don't know what gluten free is. They took a crucial piece out. They can make anyone look good if they made me look good. The judges were very real, very honest, and very personable."
BB: What was the biggest challenge?
DK: "The actual conditions. There was a high of 52 degrees F in the desert, 20 mph winds, that kind of thing. We had hand warmers in our hands and pockets. I'd just come from New Jersey where I'd got to wear a jacket while I was cooking outside. Not so much in Arizona for the show. They made us wear a T-shirt with a chef's jacket. The day before it was 85 degrees but when we got up the day of the shoot it was 40. You weren't supposed to see my lucky tie dye T-shirt, by the way (laughs). It was cold, so windy they had to mic us thru the T-shirts which was why you could see them. If you watch the show, as I was trying to get the rub on the meat it was blowing away. It wouldn't go in measuring cups, wouldn't go on the meat. Also the side burners weren't staying lit. It was complicated but that's what cooking outside is. It was more difficult than the chefs had the ability to correct for. I'm used to New Jersey in winter. That's why they invented jackets (laughs)."
BB: What is a competition TV cooking show you'd like to see?
DK: "I loved Chopped: Grill Masters. I wish they would give us meat that only goes on the grill direct. Everything I did was done on grates. I would love to see an on-the-grates only show. That would make me happy. I really like Barbecue Pitmasters too. Like the new format. I love to compete and I don't care what it is. That's why I'm looking forward to Bare Bones in September."
BB: What advice would you give to someone going on Chopped for the first time?
DK: "Just be really aware of the things you can do in the given time frame. Practice at home working within that time frame. There's a perfect example, from episode 4. Two guys have short rib on the bone and 20 minutes to grill them. You have to know instinctively you can't do short rib on the bone in that time. You have to know you have to take it off the bone and slice the meat into pieces. You have to know you need 17 minutes to make ice cream. You have to know those limits, and have a couple of tricks up your sleeve as far as ingredients go."
The following two tabs change content below.
Managing Editor | Mark is a freelance journalist based out of Los Angeles. He's our Do-It-Yourself specialist, and happily agrees to try pretty much every twisted project we come up with.
Latest posts by Mark Masker (see all)