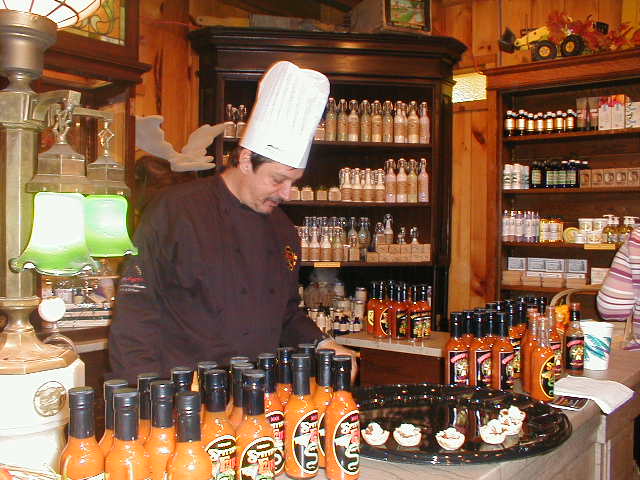 Sizzlin' Sauces' Bud Selmi may not have 80 confirmed kills, but his award record on the hot sauce circuit may make him the Red Baron of spicy heat. Minus, of course, the cool plane.
Bud Selmi became a Certified Sous Chef through the American Culinary Federation in 1995 after apprenticing for several years under several well known chefs in the northeast, specifically New Hampshire. For those of you slept through geography class, the northeast is the opposite of the southwest, which is the chile pepper homeland here in America. When you check out his background, the secret to Bud's success becomes pretty clear: hard work and plenty of education. For starters, he was the Executive Chef at the Eagle Mountain House, a 96 room "Historic Hotel of America" for 5 years. Then, in 1999, Bud was awarded the American Culinary Federation's New Hampshire Chapter's "Chef of the Year" award.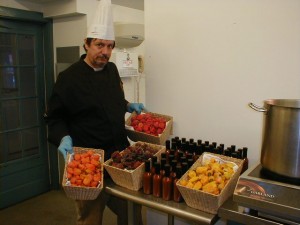 With the Scovies around the corner, we thought we'd introduce you to Bud, whose company Sizzlin' Sauces has won a good share of them in recent years. Here's what Bud had to say.
BB: Why did you become a chef?
Selmi: "I'd always been interested in cooking and been in the industry for 25 years. I was a line cook for many years, then decided to become a certified chef."
BB: What do you like most about it?
Selmi: "The creativity. I use that in my sauces. One of the things I fall back on is working in many restaurants and learning many different cuisines."
BB: Tell us about your signature cooking style.
Selmi: "I would say even though I live in the northeast, I lean toward its traditions but also enjoy the flavors of the southwest and incorporate them into the dishes that I make."
BB: How did you get into making hot sauces?
Selmi: "In `03, I started the business because I always liked hot food. In `02 we had a bumper crop of habaneros. I turned it into a sauce in mason jars and friends said I should sell it."
BB: What's the biggest challenge people face in creating a hot sauce?
Selmi: "One of the things people ask me is, 'how do you come up with the recipe?' Between my culinary background, and coming up with the ingredients, I got it right the first time. Out of all the recipes for hot sauces and relishes I've created, only one took me three times. All the rest were right on the first try. It's a matter of the knowledge and thinking what flavors will go well together. Some like fruity sauces, some don't."
BB: If you were starting out coming up with sauces now, what would you do differently?
Selmi: "I'd have a little more money in my pocket to start with. Anyone starting a business from scratch has a hard road to travel. I was doing well before the economy fell apart, but it's getting better now."
BB: Is there one type of pepper you prefer over another and why?
Selmi: "Absolutely. The habanero for its unique flavor. When you first taste it, you get a sweet flavor before the heat kicks in so I really prefer them for their unique flavor."
BB: What products do you have coming up?
Selmi: "Not any at the moment. One thing to mention, though, is this: one reason I've been so successful with the business is the awards. I've won the Google award, and quite a few Scovies. I think that solidifies and gives credentials to the products we have."
The following two tabs change content below.
Managing Editor | Mark is a freelance journalist based out of Los Angeles. He's our Do-It-Yourself specialist, and happily agrees to try pretty much every twisted project we come up with.
Latest posts by Mark Masker (see all)