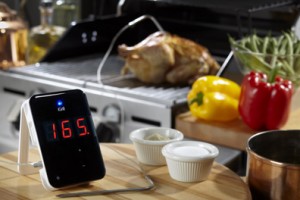 As part of our neverending crusade to avoid grillers and chileheads getting socks and bad cologne/perfume every Christmas, we're running our first annual Burn!'ed Christmas List. From now until mid-December, will be post little lists of cool, fun, or necessary gifts that we (and hopefully you) might like to find under the tree or in a stocking this December. Up first is Mike Stines with some great ideas to fill in the blanks in your barbecue arsenal.–Editor Masker
There are a lot of barbecue and cooking gadgets and gizmos on the market but which ones do you really need? I have a garage stuffed with cooking gear: different grills and smokers, rotisseries, grilling baskets, power draft units, cases of wood chips, bags of charwood, tongs, spatulas, and remote reading digital thermometers, among other useful and not so useful tools and gadgets. If I had to limit my arsenal to only a few things the decision would be pretty straightforward, though.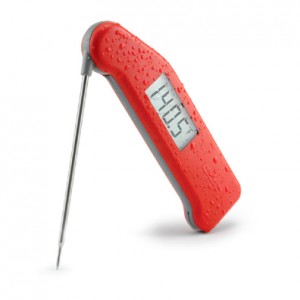 Thermapen
I consider my Thermapen critical to grilling, smoking and cooking in general. Sure you can use the "touch" method to approximate the meat's internal temperature but the only way to have an accurate reading is to use an instant-reading or rapid-response thermometer. While there are several brands on the market nothing comes close to the Thermapen in terms of reliability and accuracy. The only thing lacking is a backlit display making the Thermapen difficult to use at night. At $96, it's not inexpensive but, for me, it's worth every dollar.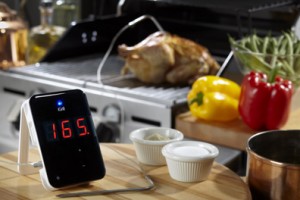 Remote-reading thermometers
I have a Maverick ET-732 and it's a great tool when you don't want to hang around the smoker all day. The ET-732 allows you to go about doing chores or just relaxing while keeping tabs on both the meat and pit temperature. A lot of competition teams use the ET-732 and I understand why.
Another whiz-bang thermometer now available is the iGrill by iDevices. The iGrill is Bluetooth enabled and compatible with both Apple and Android devices allowing wireless reading up to 200 feet from a smoker or grill. I've used the iGrill and it's a neat way to keep track of your food. Be sure you have the latest OS for your phone and the latest version of iTunes before you try to download the free application. I didn't and it took some time to get the software.
Do you need a Maverick ET-732 or an iGrill? Probably not, unless you're into serious backyard barbecue or you're doing competition barbecue. Are they nice to have? Sure… remember the one with most toys when they die wins!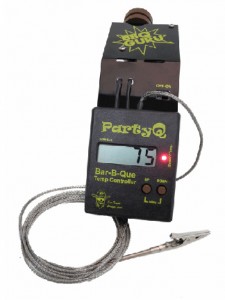 Power draft units
Power draft units definitely make cooking barbecue easier. How fancy it needs to be depends on how deep your pockets are and how much cooking you do. For the casual barbecue cook I lean to saying you can live without one. Would I live without mine? No, but I do a lot of barbecue cooking.
BBQ Guru developed the first power draft unit for barbecue a number of years ago and remains the leader in the field. Last year they created the first battery-operated power draft unit, the PartyQ. Run with four AA batteries, the PartyQ will control the temperature of your smoker (whether you use a ceramic cooker, Weber Smokey Mountain or any other type of small smoker). Unlike other BBQ Guru units, the PartyQ doesn't monitor meat temperature but it also doesn't require a deep-cycle battery or shore power to operate as its bigger brothers do.
I've used the PartyQ on a WSM, Weber kettle and a Grill Dome ceramic cooker. It's worked very well in all of the applications maintaining the cooker temperature within 10 degrees. I would recommend having a back-up set of batteries.
I've also used the original Stoker manufactured by Rock's BBQ. The Stoker has some nice features including the ability to control and monitor several cookers at the same time along with the ability to transmit information to a laptop via a separate WiFi bridge. But I found programming the unit was difficult and not intuitive. Rock's latest model includes a built-in WiFi bridge as does the "latest and greatest" from the BBQ Guru – the CyberQ WiFi. Both units require shore power, a deep-cycle battery or auto adapter to work.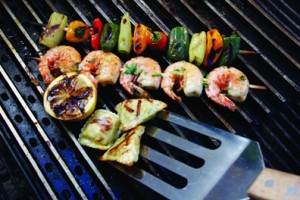 Grill Grates
Tired of burgers and steaks creating flare-ups on your grill? GrillGrates, a series of interlocking aircraft-grade aluminum panels, will help eliminate them. GrillGrates go on top of your existing cooking grate to create a new cooking surface with raised ridges to create those classic restaurant-quality grill marks and keep dripping fat and juices away from the flames. At the same time GrillGrates keep food from coming into contact with direct flames, reducing flare-ups while keeping the food juicy and tender.
Available in a variety of sizes, GrillGrates will fit any grill or smoker including gas grills, ceramic cookers (such as the Big Green Egg, Kamado Joe and Grill Dome), the Weber kettle and the Weber Smokey Mountain smoker.
Included with the GrillGrate is a "Grate Tool" that fits between the GrillGrate valleys to lift food off the grill and double as a cleaning tool to remove gunk that might accumulate in the GrillGrate valleys. (The Grate Tool is particularly helpful in keeping fish intact as it lifts the fish off the grill without scraping.)
Prices range from $39.99 for the basic two panel (10.5- x 13.75-inch) system to $99.99 for the Weber custom-cut GrillGrates.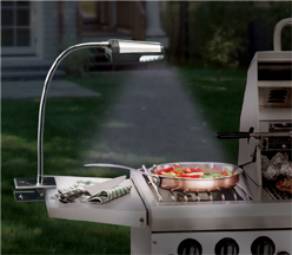 Maverick LED Grill Light
If you live in the northern climes, grilling during the fall, winter and spring presents unique challenges. Aside from cool and sometimes cold temperatures, it gets dark early and it's hard to see what you're cooking unless you're adept at holding a flashlight in one hand and a spatula or tongs in the other. The wireless Maverick GL-03 LED Grill Light provides even illumination of the cooking grate to address that issue.
Featuring four LED bulbs with a rated life of 50,000 hours, the lamp will run continuously for four to six hours on three AA batteries. The lamp features an 18-inch gooseneck with a one-inch stainless steel mounting clip to fit most grills. (The GL-05 is a similar model but with a 12-inch gooseneck while the Maverick GL-04 is solar powered with an 18-inch neck.)
The retail price of the GL-03 is $59.99.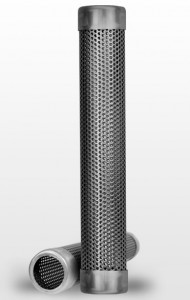 A-Maze-N-Tube Smoker
Do you have a gas grill that you want to use as a smoker but don't want to deal with making aluminum pouches to hold wood chips or a cast iron smoker box? A-Maze-N Products has a couple of solutions: the A-Maze-N Pellet Smoker and the A-Maze-N Tube Smoker.
The pellet smoker is a five by eight inch tray with three channels for pellets or sawdust and will burn for about 11 hours using A-Maze-N pellets or BBQr's Delight pellets. The tube smoker is available in two sizes, 12-inch and 18-inch and uses wood pellets to generate smoke. The 12-inch model ($29.99) will burn for about four hours at 225 degrees F. while the 18-inch model ($34.99) will provide about six hours of smoke before being refilled.
The company also sells a variety of sawdust and wood pellets including apple, mesquite, maple and cherry. Pellets are available in two-pound and five-pound packages and range in price from $5.99 to $7.99 for the two-pound package and $12.49 to $14.99 for five pounds. Sawdust prices range from $4.49 to $6.49 for one pound and $22.45 to $24.95 for five pounds.
The following two tabs change content below.
Grilling & BBQ Editor | Mike holds a "Doctorate of Barbeque Philosophy" (Ph.B.) degree from the Kansas City Barbeque Society. His book Mastering Barbecue has been called the "go-to" book for BBQ knowledge.
Latest posts by Mike Stines (see all)