A table condiment to similar to ketchup—but much more pungent—sriracha sauce is named after Si Racha, a seaside town in Thailand. Increasingly popular, this sauce is found in grocery stores and on the tables of Thai and Vietnamese restaurants all over North America. Here's a bit of background about two of the leading brands of sriracha sauce:
Rooster Brand by Huy Fong Foods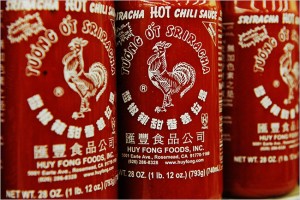 In 1983, Huy Fong Foods launched their hand-processed Pepper Sate Sauce, believed to be the first Asian-style sauce to be manufactured in the U.S.  Eventually, the company came out with Sriracha Hot Chili Sauce in a squeeze bottle, which became their trademark product.
Created by Chinese-Vietnamese founder David Tran, Huy Fong brand Sriracha Sauce has achieved great popularity in the United States. It is also known as "rooster sauce" or "cock sauce" because of the rooster featured on its label. It has grown so much in popularity that there are now cookbooks featuring recipes that use it as their main condiment.
Huy Fong's recipe has not changed since 1983: "Chili, sugar, salt, garlic, distilled vinegar, potassium sorbate, sodium bisulfite and xanthan gum." Huy Fong Foods' sauces are made from ripe red jalapeño peppers. The company formerly used serrano chiles but found them difficult to harvest. Sriracha sauce ranks in the 1,000-2,500 Scoville Heat Units range, above banana pepper and below jalapeño pepper.
In Dec. 2009, Bon Appétit magazine named this sriracha sauce Ingredient of the Year for 2010.
Roland® Sriracha Chili Sauce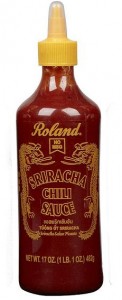 Made from a blend of chile peppers, vinegar, garlic, sugar, and salt, Roland® Sriracha Chili Sauce kicks up the heat with balanced flavor. Sriracha chili sauce has been used in Thai cuisine as a seafood condiment, and is also widely used in Vietnamese cuisine as a topping for pho, fried noodles, and spring rolls.
Demonstrating that an Asian product can be used pan-culturally, they have provided this recipe using sriracha as a component of Italian pasta sauce. Serve this "angry sauce" over Roasted Habanero Linguine from the Gourmet Texas Pasta company for a real chilehead treat.
Arrabiata Pasta Sauce
Recipe Type
:
Sauce/Marinade
Author:
Prep time:
Cook time:
Total time:
This recipe features Roland® Brand Sriracha Chili Sauce, but any type of sriracha will work.
Ingredients
1 tbsp. extra virgin olive oil
1 medium onion, chopped
3 garlic cloves, chopped
1 tbsp. tomato paste
½ cup dry red wine
28 oz. can whole tomatoes, peeled with juice
1 tsp. dried basil
½ tsp. crushed red pepper flakes
2 tbsp. Roland® Sriracha Chili Sauce
Salt and freshly ground black pepper
Instructions
In a medium saucepan, heat the olive oil over medium-low heat. Add the onions and sauté until softened, about 3 to 5 minutes.
Add the garlic and continue to cook another minute.
Add the tomato paste and stir to coat the vegetables thoroughly.
Pour in the wine and stir continuously to allow the wine to almost completely evaporate.
Add in the tomatoes, dried basil, red pepper, and the sriracha. Crush the tomatoes with a wooden spoon to help them break down in the sauce.
Bring to a boil, lower heat to a simmer and cook 20 minutes to allow flavors to blend. Season to taste with salt and freshly ground black pepper.
Here's a recipe for homemade sriracha sauce from the SuperSite article How to Make Hot Sauces by Dave DeWitt and Chuck Evans:
Transplanted Sriracha Sauce
Recipe Type
:
Sauce/Marinade
Author:
Prep time:
Cook time:
Total time:
Fresh red chiles are the key to the flavor of this recipe. Optional: Strain the sauce through sieve and discard the solids for a smooth, seedless consistency. The yield is 3-4 cups of sauce.
Ingredients
1 pound fresh red serrano, cayenne, Thai, or chile de arbol chiles, stems removed
2 1/2 cups rice vinegar (substitute white distilled vinegar)
1/4 cup sugar
1 tablespoon salt
Instructions
Remove the stems from the chiles.
Place the chiles and vinegar in a saucepan and heat to boiling.
Turn off the heat and add the sugar and salt and stir until dissolved.
Place the saucepan contents in a food processor or blender and puree until a smooth thin-paste consistency is reached. Add additional rice vinegar if the mixture is too thick.
Allow the sauce to steep for several hours, place in glass containers, and refrigerate. The consistency should be slightly thinner than ketchup.
The following two tabs change content below.
Lois Manno
Lois is the Editorial Director of the Burn! Blog and the Fiery Foods & BBQ SuperSite.
Latest posts by Lois Manno (see all)