When Burn! Blog editor Mark asked me to put together my version of a Christmas list, I decided to recap some of the products I've featured in past posts, all of which I personally love. I'm adding a couple of new ones as well. Unlike Part 1 of our shopping suggestions, I'm expanding beyond BBQ gadgets.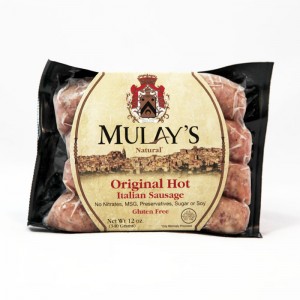 Mulay's Killer Hot Italian Sausage
"Santa Baby, Just Slip a Sausage Under the Tree…For Me." OK, so I paraphrased this famous musical holiday ditty a little. However, it does capture the rapture I felt after tasting Mulay's Killer Hot Italian Sausage. This Colorado-based company makes their sausages with 80 percent lean, certified-humane pork; they're gluten-free, nitrate-free, and completely delish. They make several flavors, but the Killer Hot was what grabbed my interest. The links had a nice kick, but were definitely not death-defyingly hot. Which in my book is a good thing, since I hate to make up a big pot of something, only to find that most of my friends can't eat it. This was not the case with the lentil stew I made using Mulay's Killer Hots. It was the perfect balance of heat and flavor. A package is $7.49 in their online store. You can also find them at Natural Grocers.
La Chamba Clay Cookware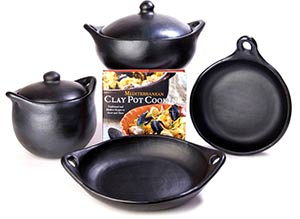 This beautiful black clay cookware hails from the village of La Chamba in central Colombia. Hand-crafted from micaceous clay, it's sturdy and heat-resistant enough to go from stovetop or oven to tabletop. In fact, you might think of it as the ancient ancestor of Pyrex. It doesn't tolerate rapid temperature change (so don't take a hot pot and fill it with ice-cold water, for instance). The mica content makes the clay plastic enough to put it right over a flame without cracking. The pots are rustic and unique, and come in an assortment of sizes. I cooked the above-mentioned lentil stew in my Chamba. The clay is non-toxic, but because it doesn't have a glassy glaze, it should be filled with water and heated in the oven to season it before the first use (instructions are included). Some people swear that cooking in clay lends an earthy flavor to the food. I can't say I noticed this, but I really liked the way the stew looked when I served it in the pot, and the residual heat in the clay kept the stew warm for a long time. Pieces run from $20 to $150, depending on the size. You can find an extensive line of bowls, plates, platters, and covered pots on the Toqueblanche.com website.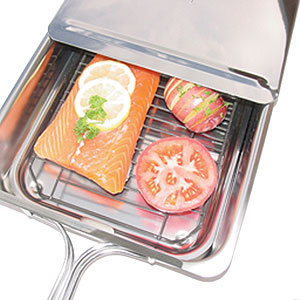 Cameron's Stovetop Smoker
I described my love affair with Cameron in an earlier post, I Heart Camerons Stovetop Smoker. It's been over a year now, and the relationship is still going strong. In fact, I smoked two turkey breast halves in my smoker for Thanksgiving. The Camerons smoker is about the simplest cooking implement imaginable—a solid stainless steel box with fold-out handles, a slide-off lid, a drip tray, and a rack. But what magic you can do with it! The smoker is fueled by about 1 1/2 tablespoons of special fine wood chips, and the whole thing sits on top of your stove while it smokes your meat indoors with an absolute minimum of fragrant smoke smell. Camerons Smokers come in an assortment of sizes, making them a fantastic gift idea for anybody. Made right in the U.S. of A., they run from $32 to $54 at cameronsproducts.com.
Deano's Jalapeños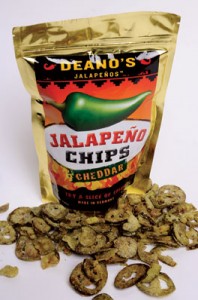 My addiction to Deano's Jalapeño Chips started at the 2010 Fiery Foods & BBQ Show and hasn't abated. These Vermont-made chips (which contain no potato products) are simply jalapeño chiles that have been sliced into rings while fresh, then flash fried and sprinkled with various seasonings to give them additional overtones of flavor. They come in Cheddar (the original flavor), Ranch, and Sea Salt, and they have a new shaker-sized version called Jalapeño Bit's. Make no mistake—the taste of jalapeño is the star, and the chips are crisp without being greasy. They have a little heat, but are easy on the mouth and very versatile. Read my original review here, which includes a great recipe for Spiced-up Green Bean Casserole, a new twist on an old holiday classic.
The Cobb Portable Grill
 "Clean, Convenient, and So Cool: A Cobb Grill Has it All!"  This was the title of my blog review of the Cobb Grill, and I stand by it. After reading about this nifty cooker from South Africa, I absolutely had to try one out for myself. I'm glad I did! It makes the most tender, moist pork spare ribs I have ever eaten, hands down. And other folks said the same.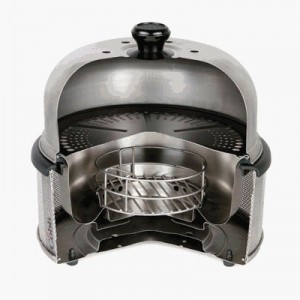 Think of the Cobb as a cooking system, because you can use accessories to expand its functionality, similar to the add-ons for a Big Green Egg (but for a fraction of the price). Unlike typical barbecue grills, the Cobb can roast, bake, smoke, fry , boil and barbecue.  Because it has a double-walled body, the unit stays cool to the touch, and it's so compact you can actually pick it up easily and move it while you're cooking something. How many grills can you do that with? Time Magazine named it one of the best inventions of 2001.
The Cobb uses a very small amount of charcoal because it's so efficient, and the heat doesn't get out of control—that's why the ribs ended up moist and full of flavor instead of dried out. A basic Cobb grill costs around $100, but you can accessorize to your heart's content.
Dave DeWitt's Chile Trivia Book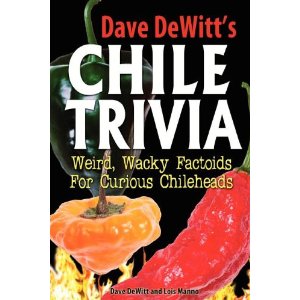 I would be doing a disservice to all the chileheads out there who read the Burn! Blog (and to my coauthor Dave) if I didn't give a plug for the award-winning book, Dave DeWitt's Chile Trivia. Talk about a perfect gift idea! It's funny, informative, inexpensive, and guaranteed to be One-Size-Fits-All. Whether you're a chile gardener, a humor lover, or a reader who enjoys eclectic collections of information, Chile Trivia is the book for you. Compiled by myself and The Pope of Peppers, you won't find a more comprehensive chile trivia book anywhere. It also features chapter openers that describe Dave's chile-related travels and experiences over the years. On sale now for just $12.44 a copy, order it on amazon.com here.

The following two tabs change content below.
Lois Manno
Lois is the Editorial Director of the Burn! Blog and the Fiery Foods & BBQ SuperSite.
Latest posts by Lois Manno (see all)