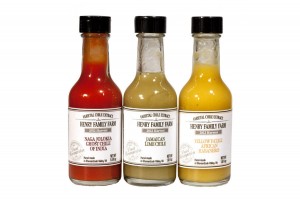 Oh, the fun I'm going to have with these.
Earlier this year, David Rosengarten, host of Food Network's Taste, shined the spotlight on Henry Family Farm's Varietal Chile Extracts on his website. He also gave us the Chile Connoisseur's Collection to play with. Over the next several weeks, we'll be bringing you recipes you can try which utilize the extreme heat found in these products. Between you and I, I'm a little giddy.
These products come straight from the Shenandoah Valley hot pepper farm of Bob Henry. He's been preparing these small batch, handmade extracts with exotic chiles and selling them locally. Now, though, you can get a limited supply of his Jamaican Lime, Yellow Fatali, and Naga Jolokia extracts for your own use. Be careful, though. These high intensity heat mongers are to hot sauce what jet fuel is to lighter fluid. One drop of any of them in a pot of chili is all it takes to ramp up the heat. David sells them on this page. Here's a breakdown of what you can get.
Naga Jolokia Ghost Chile of India (4.9 oz): Made from pure strains of the pepper obtained directly from India, the Naga Jolokia extraction exhibits the chile's intense signature heat, and its intriguing aromas of tomato and bell pepper. The Ghost Chile elevates dishes that already have lots of flavor, such as gazpacho, caponata, chili con carne.
Yellow Fatali African Habanero (4.9 oz): The Yellow Fatali from Africa brings serious heat, while showcasing the habañero family's traditional flavors and aromas…from fruit (slightly cooked) to cookies (think boxes of what you ate at school with milk!). Pairs well with creamy dishes, particularly Indian sautés.
Chile Connoisseur's Collection (3 pack- 1.6 oz each): This collection is the ultimate in Henry Family Farm chile varietal extracts. It includes the heat of the Naga Jolokia Ghost Chile of India, the unique flavor range of the Yellow Fatali African Habanero, and the tangy citrus spice of the Jamaican Lime Chile.
The following two tabs change content below.
Managing Editor | Mark is a freelance journalist based out of Los Angeles. He's our Do-It-Yourself specialist, and happily agrees to try pretty much every twisted project we come up with.
Latest posts by Mark Masker (see all)