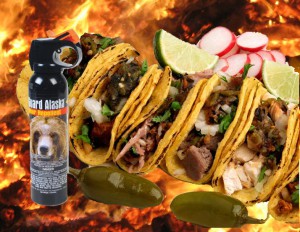 Many a trend was born in California, and with that in mind I thought it might be good to talk about pepper spray, given recent events here in Cali. A few weeks ago campus police at UC Davis lavished it on protesters as they sat menacingly on the ground (see the YouTube video here). Then, last week a woman at a Southern California Wal-Mart busted it out on her fellow shoppers late Thursday night so she could get dibs on an Xbox 360 for Black Friday. Why, it's getting so you can't go into a hostile mob standing in line at Starbucks without a good chance of catching a healthy dose of the stuff.
TV's portrayal of pepper spray hasn't exactly helped, either. Years ago, The Simpsons ran a gag where Homer used pepper spray as a food seasoning. You'd think he'd be the only TV character stupid enough to do that…or not. In the midst of all of this liquid heat flying around, Fox News' Megyn Kelly called self-defense pepper spray a food product. Much like a super hot sauce, it has a ton of capsaicin in it, so in some alternate universe she may be technically correct.
Look, we know she was wrong, you know she was wrong, and she may or may not know. But what about all of our friends out there who only know enough about pepper spray and hot sauce to present a danger to themselves and others? What about the tons of trend followers, who, looking for the next big thing, start carrying Kardashian-endorsed designer pepper sprays, only to accidentally shoot themselves with it? In other words, who'll save the idiots?
Really, no one should save the idiots—but that's another story. Regardless, I thought it might be a good idea to dig around and find some guidelines for what to do in case you catch a blast of spray at a protest, shopping at Wal-Mart, or accidentally at a strip club, which happened to a buddy of mine a few years ago. Twlk.com has a PDF that talks about things like mace and OC pepper spray. Here's what it had to say about treating the happy recipient of pepper spray. You can find the full document here.
• Open your eyes as soon as possible and blink a lot. Try to keep your eyes open so they can start tearing and begin flushing themselves.
• If you wear contact lenses and your hands are clean, take them out. Hard, clear lenses can be cleaned and used again. Soft disposables must be discarded.
• Use cool water to repeatedly flush your eyes.
• Do not scrub your eyes. Use a stream of water like a spray bottle, garden hose, or kitchen faucet, or immerse your head into a bucket of water to flush your eyes and face.
• Specialty eye washes are available, but baby shampoo is easy to find and will not irritate your eyes or skin.
• Remove all clothing that came in contact with the spray.
• Scrub your hands with soap at least three times.
• Wash the resin off the skin with water and a non-oily soap like baby shampoo.
• Pat the skin with a wet paper towel, and then pat with dry paper towels. You usually have to do this 6-8 times before the resin actually starts to come off onto the paper towels. The effects last about 45 minutes and should be completely gone within a few hours.
Keep this list handy in case you ever decide to work with super hot chiles, like Scorpion or Bhut Jolokia. The pain of getting super hot stuff in your eyes is comparable to being maced.
The following two tabs change content below.
Managing Editor | Mark is a freelance journalist based out of Los Angeles. He's our Do-It-Yourself specialist, and happily agrees to try pretty much every twisted project we come up with.
Latest posts by Mark Masker (see all)