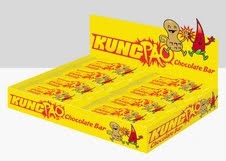 I like the concept of crowdfunding but I hate the name. It's too PC for me. "Guerilla financing" just sounds more revolutionary if not not outright dangerous.
Speaking of which, Kung Pao Chocolate Bars has started an Indiegogo campaign to launch the release of its first 10,000 candy bars. They're a new confection that brings sweet milk chocolate together with a proprietary blend of chile and spices that to make an awesome candy bar.
The Indiegogo campaign is an innovative crowdfunding approach to simultaneously fund a new product and build awareness for post-launch sales. Individuals and candy retailers are able to preorder bars that will be shipped with promotional and premium items.
Candy retailers and wholesalers are able to pre-purchase bars from the first 10,000 produced and be the first in their markets to sell this new product. Orders of 1,000 bars or over will include large size full color cardboard cutouts of the candy's mascots, Kung (the chile pepper) and Pao (the peanut).
The Indiegogo campaign will end on February 14, 2013 and candy should ship by the first week of April. You can check it out (and make a donation) here.
The following two tabs change content below.
Managing Editor | Mark is a freelance journalist based out of Los Angeles. He's our Do-It-Yourself specialist, and happily agrees to try pretty much every twisted project we come up with.
Latest posts by Mark Masker (see all)