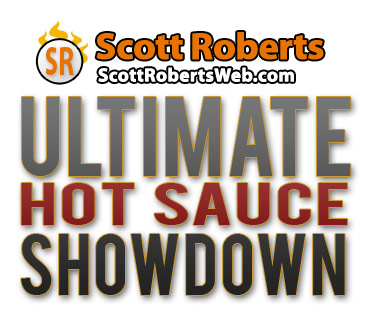 Eons ago, in Internet terms, anyway, ten combatants met in battle to see which was worthy of the title best hot sauce. The time was last September and the arena was The Huffington Post. When the fighting was over, one sauce stood victorious. Scott Roberts, however, judged it unworthy.
Not in the traditional martial arts fantasy film way, though. There was no big dramatic moment where he pulled back the hood on his robe, declared the winner a loser, then challenged it to face him in the sequel. Scott was more vocal than that, expressing his dismay by posting about the contest in Huffington's comments section. His problem with the little hot sauce tournament was it only included the biggest, most mainstream sauces. It was by no means a comprehensive representation of the larger hot sauce world comprised of more specialized sauces.
That's when Mr. Roberts decided to hold his own hot sauce battle, The Ultimate Hot Sauce Showdown. It's too late to enter but it's not too late to vote. Individual sauces face each other heads-up with the winner of each duel advancing to the next round. The first of those rounds is still going on and you can cast your votes on his website.
The following two tabs change content below.
Managing Editor | Mark is a freelance journalist based out of Los Angeles. He's our Do-It-Yourself specialist, and happily agrees to try pretty much every twisted project we come up with.
Latest posts by Mark Masker (see all)