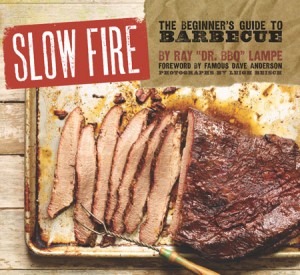 Father's Day is upon us and instead of making a mad last minute dash for ties and cheap cologne, you may want to consider this book from Ray "Dr. BBQ" Lampe for dad instead. Especially if he's new to smoke and flame.
Slow Fire: The Beginner's Guide to Barbecue is a great introductory course to the 'cuer's craft because it walks you through the whole process from buying gear to customizing your rub and most importantly, barbecuing.
Ray Lampe takes the time to explain the differences between using gas, charcoal, electric, and pellet smokers. Beyond that, he also breaks down various home smokers from cheap outdoor bullets to indoor stovetoppers. You also get recommendations for all the tools and gear you'll need to make some really great barbecue for after you've decided what kind of smoker is to your liking.
After this Slow Fire moves into the various types of wood, chips versus chunks, and which types of wood go best with various types of meat. A section like this is kind of standard in a how-to barbecue book but where most others just tell you what wood goes with which meat, Ray hits on the idea of mixing up chunks and chips as well as combining two or more woods to customize your smoke and really dial it in. That was something I found interesting and new, especially for a beginner's guide. It's a great way to suggest simple creativity for a novice backyard barbecuer. Ray Lampe didn't set out to write a Dummies book and you'll find a few suggestions for how to tailor smoke, rub, and sauce to your own tastes without spending a fortune. Having said that, you also won't come across exact measurements for how much wood to add to your smoker as if you were baking a cake. Ray emphasizes creativity over absolutes. He does tell you when you to use heavy, medium, or light smoke, however.
The sauces and rubs Ray uses in this book run a fun gamut too. The #67 and #68 barbecue rubs are great starting points for you if you've never made your rub and Ray's Supersweet Rib Rub is great for anyone who likes a touch of candied on their pork. I'm really interested in springing the yellow barbecue sauce on my buddies but the Banana Ketchup is a great way to get newbie pitmaster's thinking about creative possibilities beyond store shelf barbecue sauce.
Moving on to the recipes, I found them to be a nice mix of basics (Roadside Barbecue Spareribs, page 56) and some really cool ideas I'd not expect to find in a beginner's guide (Smoked Scotch Eggs, page 145). I tried the Roadside Ribs recipe first because ribs are an Achilles' heel for me when it comes to barbecue. I'm a master of overcooking them, mostly because I'm used to grilling ribs over hot coals instead of low and slow. I was extremely happy with the results and I don't think I'll make them grilled anymore. Lastly, the imagery in this book just makes you want to hit the yard and start barbecuing.
If you're looking to get dad (or mom, or yourself, or your drunk uncle who thinks burned on the outside/raw on the inside is real barbecue) a good guide to start 'cuing, Slow Fire: The Beginner's Guide to Barbecue is a great choice. You'll find it on Amazon here.
The following two tabs change content below.
Managing Editor | Mark is a freelance journalist based out of Los Angeles. He's our Do-It-Yourself specialist, and happily agrees to try pretty much every twisted project we come up with.
Latest posts by Mark Masker (see all)