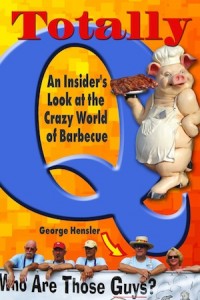 Not that you ever need to explain to anyone why you want to barbecue, but if for some reason you did, there's a great list of Barbecue's High Holy Days in George Hensler's book, Totally Q. If some fool looks at you when you suggest firing up the grill and you're tired of telling them, "Because I say so," try using one of these as an excuse. Just make sure the holiday and the date coincide. Haters can't call you out if you're right.
February 29: National Surf and Turf Day
March 1: National Pig Day
May: National Barbecue Month
May: National Grilling Month
May: National Hamburger Month
May 28: National Hamburger Day and National Brisket Day
July: National Grilling Month
July: National Hot Dog Month
July: National Bake Bean Month
July: National Barbecue Spar Ribs Month
July 13: National Beans N' Franks Day
July 20: National Hot Dog Day
August 11: Feast of Saint Alexander "the charcoal burner"
August 13: National Filet Mignon Day
August 16: National Bratwurst Day
August 19: Hot & Spicy Food Day
August 31: National Eat Outside Day
September: National Chicken Month
October: National Pork Month
December 5: Repeal of Prohibition (woo hoo!)
The following two tabs change content below.
Managing Editor | Mark is a freelance journalist based out of Los Angeles. He's our Do-It-Yourself specialist, and happily agrees to try pretty much every twisted project we come up with.
Latest posts by Mark Masker (see all)