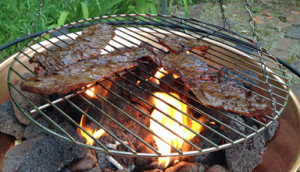 It's a cool evening and you're sitting in the back yard around a fire pit. Comfortable and romantic… but you're hungry!
Can you cook on a fire pit? Sure you can. It doesn't make any difference if it's propane-fired or a traditional wood burning pit… cooking is cooking. And you can do a lot more than S'mores, hot dogs and hamburgers.
While my daughter and her husband have a traditional wood-fired pit at their New Hampshire home, mine is propane-fired. It's a Del Rio manufactured by CampChef. The other evening I fired it up to just to watch the flames dancing in the pit while sharing time with the bride and some adult beverages. Then it was time to do some cooking!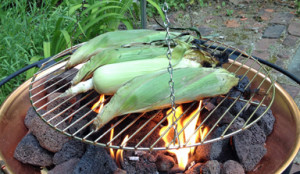 It was a simple dinner; Thai crying beef and roasted sweet corn. (Alright, I'll admit it; I prepped the meal a few hours before). The other meal I did was grilled Maine lobster (after all this is New England).
Thai-style Crying Beef (Seua Rong Hai)
Author:
Although any cut of beef will work for this recipe, boneless rib eye, flank steak or New York strip are suggested. I prefer flank or skirt steaks.
Ingredients
2 rib eye steaks, about 1 1/2-inches thick (about 12 ounces each) or one flank steak
2 tablespoons dark soy sauce
1 tablespoon oyster sauce
1 tablespoon dark brown sugar
1 tablespoon vegetable oil
Instructions
Mix the soy sauce, oyster sauce, brown sugar and vegetable oil in a medium mixing bowl. Coat the steaks with the mixture and marinate for at least one hour.
Grill the steaks, turning frequently, until the desired doneness is reached (I think medium-rare is the best – the meat should be about 125 degrees F. on an instant read thermometer).
Remove the steaks from the cooking grate and let the beef rest for five minutes. Bias-slice the steaks across the grain into thin slices.
Dipping Sauce
Author:
Ingredients
1/2 teaspoon coriander seeds
15 fresh Thai chiles, stemmed
4 cloves garlic, minced
1/3 cup lime juice
1/3 cup fish sauce
1 tablespoon granulated sugar
Instructions
Pound the coriander seeds in a mortar and pestle until they become a powder (or use a spice grinder if you're lazy like me).
Add the garlic and chiles and pound/ grind until smooth.
Transfer the spice mixture to a small mixing bowl; add the lime juice, fish sauce and sugar. Mix well until blended.
Grilled Sweet Corn
Author:
There are a few ways to do sweet corn on an outdoor grill… with the husks on, peeled or wrapped in foil. My preference is to keep the corn intact and roast the ears over hot coals. The husks will get charred but the corn will be tender and sweet.
Ingredients
4 ears of sweet corn
For the Chipotle-Lime Butter:
1/2 cup (1 stick) unsalted butter
2 tablespoons minced canned chipotle chiles (or one tablespoon dried chipotles)
2 teaspoons fresh lime juice
1/2 teaspoon coarse kosher salt
Instructions
Melt the butter, then mix in everything except the corn.
Trim off the silk at the end of the ears and place the corn over the fire. Cook for about five minutes and then rotate to corn. Cook for another five minutes or until the kernels are soft to the touch.
Peel back the husks and use a kitchen towel to remove the silk; leave the husks on the end to form a handle to make for easy eating.
Brush the corn with chipotle-lime butter and a sprinkling of freshly ground black pepper. A spritz of lime juice is a nice complement to the corn.
Grilled Lobster
Author:
Although purists will insist Maine (Atlantic) lobster should only be steamed, boiled or cooked during a clambake over hot rocks covered with freshly harvested rockweed, grilling is also an option. Maine lobster is not the same as its warm-water cousin called spiny or rock lobsters. Atlantic lobsters have two large meat-filled claws while rock lobsters have no claws and the only meat is from the tail.
Ingredients
1 1 1/2 to 2 lb Maine lobster
Instructions
Humanely kill the lobster by using a large chef's knife to slice between the eyes splitting the head in half.
Brush olive oil on both sides of the lobster and set it bottom side down on the cooking grate. (If you want the tail to remain straight while cooking, insert a skewer into the tail running it alongside the underside of the shell; otherwise the tail will curl during cooking).
Grill the lobster until the shell is bright red, about eight to 10 minutes for a 1 1/2 pound lobster and 12 to 14 minutes for a two pound lobster. Remove the lobster from the grill and let it cool for a few minutes before cracking the tail and claws. (You want the lobster to have an internal temperature of 175 degrees F. in the tail section.)
Serve warm with a dipping sauce of your choice (melted unsalted butter with a bit of lemon juice is a good choice).
The following two tabs change content below.
Grilling & BBQ Editor | Mike holds a "Doctorate of Barbeque Philosophy" (Ph.B.) degree from the Kansas City Barbeque Society. His book Mastering Barbecue has been called the "go-to" book for BBQ knowledge.
Latest posts by Mike Stines (see all)