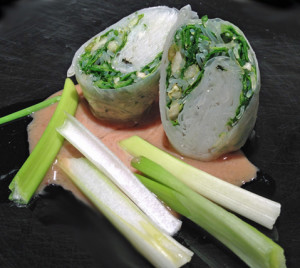 It's summertime… hot and humid. You don't want to be heating up the kitchen and cooking but would like something light, tasty and different for dinner. Try some Vietnamese spring rolls served cold with a peanut dipping sauce. While there is a bit of a learning curve to master rolling the rolls once that's accomplished the rest is easy.
Peanut Sauce
Author:
Ingredients
3/4 cup smooth peanut butter
1/3 cup hot water
3 tablespoons hoisin sauce
2 tablespoons fresh lime juice
1 tablespoon reduced sodium soy sauce
1 tablespoon granulated sugar
1 tablespoon chile-garlic paste
1 tablespoon minced garlic
Instructions
Whisk all the ingredients in a small mixing bowl and reserve.
Spicy Spring Rolls
Author:
Ingredients
1 pound cooked shrimp, finely chopped
16 rice paper wrappers
1 cup bean sprouts, well drained
4 ounces rice stick noodles
Fresh mint leaves (about one cup)
Fresh basil leaves (about one cup)
4 scallions trimmed and quartered lengthwise; cut into two-inch lengths.
Instructions
Cook the rice noodles according to package directions and rinse under cold water. Drain well.
Fill a pie plate with warm water. Submerge one wrapper and let it become softened and pliable, about 30 seconds. Place the wrapper on a towel-lined working surface and add some shrimp, noodles, bean sprouts, mint, basil and scallions into the lower third of the wrapper.
Fold the bottom of the wrapper over the filling and then fold in the sides. Gently roll the wrapper tightly into a cigar-shaped form.
Transfer the roll to a parchment paper lined sheet pan and continue assembly until all the rolls are done.
Serve immediately or refrigerate, covered, for up to four hours. (I like to have Bibb or Boston lettuce leaves on hand to wrap the rolls for serving.)
The following two tabs change content below.
Grilling & BBQ Editor | Mike holds a "Doctorate of Barbeque Philosophy" (Ph.B.) degree from the Kansas City Barbeque Society. His book Mastering Barbecue has been called the "go-to" book for BBQ knowledge.
Latest posts by Mike Stines (see all)