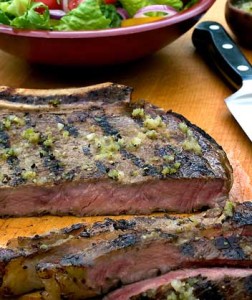 Before the World Cup started, I thought it would be a good idea to present a selection of Brazilian recipes, in honor of the WC's host country. But then I forgot about it. With the WC entering its hot phase, below is the list of Brazilian recipes on Fiery Foods & BBQ that I've assembled over the years. Just click on a title to see the recipe.
Smoky Black Beans
Meaty, slow-cooked beans make an appearance on Latin and Caribbean plates from Little Havana to Little Haiti and everywhere in between. Some are served with rice, some are stewed with every flavorful cut of meat that fits in the pot, as in Brazilian feijoada. What most versions have in common is the richness and smoky flavor of pork. My simplified version uses bacon and ham hocks for loads of flavor with a minimal amount of fuss. Starting with dried beans takes some advance prep, but it is an easy way to achieve authentic results! Note: this recipe requires advance preparation.
Fish in Coconut Broth (Pescado en Salsa de Coco)
Coconut adds a Caribbean flavor to this dish from the Dominican Republic and Cuba. A favorite on island menus, the fish and coconut combo is also very popular in Brazil, where both are plentiful. This delicate and delicious dish is served with rice and plantains. This recipe can be found in La Comida del Barrio, Clarkson Potter Publishers/New York.
Brazilian-Style Rice
Brazilian rice is one of the staples of a Brazilian dinner and the holidays are no different. Brazilians most often make use of long grain rice, and the shelled pumpkin seeds give it the holiday zest that it needs while the kale (as well as the rice) is sautéed in garlic to add a touch of flavor. A touch of hot sauce adds zest to this side dish.
Brazilian Steaks with Jalapeño-Lime Salsa
These steaks are a wonderful spicy main dish that teams very well with many of the sides in this list.
Môlho Malagueta (Malagueta Sauce)
Here is a basic Brazilian hot sauce featuring malagueta chiles. It is simple, powerful, and can be added to any recipe (except desserts) to spice it up. Note: This recipe requires advance preparation.
Brazilian Shrimp Empadinhas
Brazil, the largest country in South America, was colonized by the Portuguese hence the spelling empadinhas or empadas. This Bahian-style empada filling can also be made with scallops or for a variation, used in puff pastry.
Môlho de Pimenta e Limao (Hot Pepper Sauce with Lime)
This hot sauce from Pernambuco is commonly served in a small dish at Brazilian meals to spice up such dishes as feijoada and seafood stews. It features the malagueta pepper, that close relative of the tabasco pepper. Variation: Make a paste by pureeing the peppers, garlic, onion, and salt in a blender. Add the lemon or lime juice and stir well.
Môlho de Acaraj (Chile-Shrimp Sauce)
This Brazilian sauce is traditionally served over black-eyed pea fritters (acaraj, called accra in the West Indies), but can also be spread over other bland foods such as potatoes. It has an intense shrimp flavor and high heat. It is traditionally made with dende, palm oil, but I have substituted one with less saturated fat.
Môlho de Piri Piri (Portuguese Hot Sauce)
Early in the sixteenth century, chiles were transferred from Portuguese Brazil to their colony of Angola. These small, piquin-like chiles (which were probably Brazilian malaguetas) were called piri-piri (pepper-pepper) and became an integral part of the local cuisine. The sauce made from them was transferred back to Portugual, where it is a staple on dining tables–served with seafood, soups, and stews. Since the piri-piri chiles are not usually available, use chiles de árbol, cayenne chiles, chile piquins, or chiltepíns. Note: This recipe requires advance preparation.
Steak with Malagueta Basting Sauce
Restaurants in Brazil called churrascarias sell spit-roasted meats to order, and the skewers the meat is grilled on are actually swords. A churrasco is simply a Brazilian mixed barbecue, featuring beef and pork—but feel free to throw in a few sausages, as that's the way it's done in Brazil. Note: this recipe requires advance preparation.
Brazilian Habanero Basting Sauce for Pork Chops
This is part of a traditional Brazilian Churrasco, or mixed meat barbecue. Many habanero relatives grow in the Amazon Basin, where the species was domesticated.
Couve a Mineira (Brazilian-Style Kale)
Garlic lovers, rejoice! Here is a perfect, garlicky accompaniment. And it's so simple to prepare.
The following two tabs change content below.
European Chilehead Editor at Large | Harald's Chili Pepper Buch 2.0 is the bestselling chile book in German-speaking Europe. He covers European chilehead culture and his own spicy kitchen encounters for Burn Blog.
Latest posts by Harald Zoschke (see all)