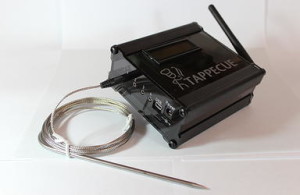 Tappecue, a Wi-Fi based temperature monitoring system that includes four different temperature probes for tracking different meats on the smoker, has added a chamber probe to its arsenal of cooking accessories.
Unlike most remote reading thermometers where cooks simply stick a meat probe into a small potato or onion to monitor the pit temperature, the Tappecue chamber probe mounts on the cooking grate using a spring clamp and has a specially designed blunt probe instead of the usual sharp-pointed temperature probe used for meats.
The Tappecue chamber probe is $17.95 and is available at Tappecue.com. The Tappecue with four meat probes costs $199 and comes with an AC power supply, a USB cord and free mobile apps for iOS and Android devices.
The following two tabs change content below.
Grilling & BBQ Editor | Mike holds a "Doctorate of Barbeque Philosophy" (Ph.B.) degree from the Kansas City Barbeque Society. His book Mastering Barbecue has been called the "go-to" book for BBQ knowledge.
Latest posts by Mike Stines (see all)