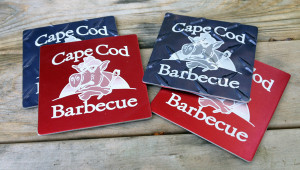 I've written about the multi-function six-in-one grilling tool from PopsQtool. For $50 you get everything you need…a spatula, fork, knife, grate cleaner, tong and bottle opener. I have one and use it all the time. But what's really neat is the company also makes laser cut coasters that can be adorned with your BBQ team logo or whatever you'd like on them (aside from sports team logos).
The coasters are inexpensive… $5 each!
The anodized coasters with urethane feet make great gifts and look great whether on a picnic table or in your dining room.
More information is at PopsQTool.com.
The following two tabs change content below.
Grilling & BBQ Editor | Mike holds a "Doctorate of Barbeque Philosophy" (Ph.B.) degree from the Kansas City Barbeque Society. His book Mastering Barbecue has been called the "go-to" book for BBQ knowledge.
Latest posts by Mike Stines (see all)